Here's some output from the barbarian backstory generator I built recently. If you'd like to create your own with the power of GPT-3 AI, check out the LitRPG Adventures Workshop today!
Barbarian Backstory Generator Examples
The barbarian is an iconic class in D&D, Pathfinder, and other tabletop RPG games. I've used the LitRPG Adventures Workshop to generate these examples for you to check out.
Barbarian Backstory #1
Hilda Hallsworth
Female Human Barbarian Born in The City of Sharre
Barbarian Backstory:
When she was young, Hilda's parents were killed by a band of orcs in the night. She was able to escape with an older woman and two boys. She grew up on the streets of Sharre, learning the hard way. Still, she was able to learn much about the world. She grew up a fighter, always proving her own toughness. She learned how to read and write along the way, but she was never really interested in it. It was really just a means to communicate with others. While working as a barmaid, Hilda was impressed by the gold and gems that the lord of the castle wore around his neck and on his fingers. She wanted to find a way to gather her own fortunes and riches. Her childhood friends persuaded her to leave the bar and become a hired sword to make a way for her future.
Barbarian Personality:
Hilda is a fighter, through and through. She's tough and headstrong, never giving up until her opponent is down. She's a little dense sometimes, however, and it takes her a while to realize when she's outmatched by her opponent. She's very loyal to her friends, and she uses her muscles and brawn to protect them. She also loves to tell a joke or a story, making her a fun person to be around.
Character Appearance:
Hilda is tall and brawny. She has bright red hair, cropped short. Her bright green eyes are constantly assessing her surroundings while she's out on the road. Her vest is very practical, with a number of small pouches attached all around. She wears a small bag on her side, with a short sword strapped to her back.
Want FREE Wizard Character Backstories?
Want a full book of wizard backstories?
Get your
FREE Wizard Backstories
today.
Or, if you want to create your own D&D backstories (and more), head over to
LitRPG Adventures
today.
Start of Character:
Hilda has decided to adventure through the lands of the Kingdom of Grabisco. She hopes to make a name for herself and enough money to buy her own keep and keep for the future.
Barbarian Backstory #2
Lothar Longstride
Male Wood Elf Barbarian Born in Feorlindar
Character Backstory:
While he was still a young boy, Lothar attended the prestigious school at Feorlindar. At school, he developed a love for drinking and fighting, which he would work on for the rest of his life. He joined an elite fighting squad that served the Duke of Feorlindar, helping to protect the duke's lands. When he was a young man, he challenged the duke to a fight. The duke won, and Lothar was exiled from Feorlindar. He traveled to the vast grasslands of the King's Plains, where he practiced his fighting skills and drank his fill.
Barbarian Personality:
Lothar is a very friendly, outgoing person who just loves to share a good drink with anyone willing to listen. He's never afraid to speak his mind, even if it gets him in trouble. He's happy with his life as an adventurer and looks forward to seeing the world.
Barbarian Appearance:
Lothar is a tall man with slightly long brown hair. He tends to wear whatever is comfortable, usually something unusual, like a cloak made from a lion's hide. He's not a very handsome man, but he moves with great, athletic strength.
Start of Character:
Lothar likes his life of adventure, traveling the countryside, earning gold, and drinking. He has no interest in settling down, but he's always open to hearing about it.
Want FREE Wizard Character Backstories?
Want a full book of wizard backstories?
Get your
FREE Wizard Backstories
today.
Or, if you want to create your own D&D backstories (and more), head over to
LitRPG Adventures
today.
Barbarian Backstory #3
Xivm R'n'Kynnyn
Male Spyderling Barbarian Born in The Thief House of R'n'Kynnyn
Barbarian Character Backstory:
Xivm lived his entire life in the shadows, practicing his family's ancient profession of stealing from the rich and giving to the poor. When he was old enough, he took to the streets and let the thieves' guild know that he was open for business. Eventually, he made a name for himself as a master thief, and he was selected to steal a very valuable artifact from the Royal Palace of Grabisco. When he was caught, he was thrown into the dungeons for a year, but he escaped with the help of his old friend S'tani. He's now living life the way he knows how: stealing from the rich and giving to the poor.
Make Your DM Happy With This Tool!
Over 14 RPG generators currently online.
Try my
D&D Backstory Generator
today. Members get access to library of content.
Barbarian Character Personality:
Xivm likes to keep everything clean and organized, but he tends to get a little distracted when he's working on a kleptomaniacal streak. He went through a period in his life where he wanted to make a difference, and he joined a group called the thieves' guild that was trying to topple the establishment. After a few years, he had had enough and escaped from the guild with S'tani. He's happy to do a bit of good, but he spends most of his life getting things from people that don't necessarily want to give them up.
Barbarian Character Appearance:
Xivm has long dark hair and sharp yellow eyes. He has rough, black fur covering his body, and he has sharp fingernails and long, sharp teeth. He wears dark blue and black clothes, but he often carries around a black cloak and hood in case he needs to hide in the shadows.
Start of Character:
Xivm has found himself in the kingdom of Grabisco, and he plans on spending a few years there getting back into his profession of thievery. He wants to grab as much as he can, and then give it away to people who need it more than he does.
AI Powered Barbarian Character Backstory Generator?
Yes! Head over to LitRPG Adventures and join the community using the Workshop to create a whole bunch of RPG content, including cities, warlock patrons, governments, magic items, spells, creatures, undead, and much more!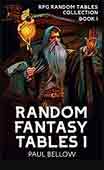 New Fantasy RPG Random Tables Book Available Now
Make life as a Game Master easier....
If you play Dungeon & Dragons, Pathfinder, or other fantasy tabletop role-playing games, this
RPG random tables book
is full of encounters, NPCs, and more. Available as an eBook or in a classic print format. Either way, you'll have a wealth of adventure ideas at your fingertips.