Need a D&D knight backstory? Here's a few knight backstory examples created with LitRPG Adventures, over two dozen advanced RPG generators powered by GPT-3 from OpenAI. If you enjoy these knight character backstories, be sure to head over to LitRPG Adventures and create your own today. You can sign-up for free to check out the examples in the library (over 7,500 pieces of content already) or create your own by buying credits ala carte. Come join the community and get character backstories, monsters, dungeons, quests, spells, and more generated by powerful AI.
D&D Knight Backstory Examples
Here's just a few examples of D&D knight backstories you can create and use in your tabletop RPG like Dungeons and Dragons or Pathfinder.
Example DnD Knight Backstories
Feel free to use any of these D&D knight backstories for your campaign.
Loleth Feynon
Male Dark Elf Knight
Born in Salka (Grabisco Kingdom)
STR 10 INT 13 WIS 10 DEX 13 CON 6 CHA 10
Knight Backstory:
Loleth grew up in a small, dark elf community in the mountains of Salka. His father was a blacksmith who worked to make the finest tools and weapons in the community. He was taught how to forge from a young age and was proud to be the best blacksmith among all of his peers. Years later, Loleth became a part of the Salka Knights, an elite unit of fighters. He was selected for his skill in crafting weapons and his fighting prowess. Loleth is a calculating fighter who likes to get in close to deal damage to his enemies. He is looking forward to becoming a renowned fighter, like his father before him.
Personality:
Loleth is a fighter who is always ready to jump into any combat. He doesn't talk a lot, but he is a skilled conversationalist. He doesn't like to interact with others, but he will engage if they start instigating a fight.
Appearance:
Loleth wears a full suit of black plate mail, including a helmet, shoulder pads, backplate, and gauntlets. He carries a large shield to help protect himself. He uses a halberd to fight, and when he isn't in the field, he works a blacksmith anvil with his father.
Start of Character:
Loleth is an adventurer in the Grabisco Kingdom, looking for fame and glory to add to his legacy.
Pii
Male Kobold Knight
Born in Ullenwood (Grabisco Kingdom)
STR 13 INT 10 WIS 13 DEX 16 CON 11 CHA 16
Knight Backstory:
Pii is a kobold from Ullenwood, a country far across the sea. He's headstrong and strong-willed, but not stupid. He left his homeland as soon as he was able, knowing full well he could never be what he truly wanted to be in Ullenwood. He was determined to be a knight and travel the world. He did so for several years, becoming gifted with both a sword and a spear. He was a competent soldier, but soon decided to make his way into the Kingdom of Grabisco. He heard of a group of knights who were recruiting for their order, and so he joined them. This is where he has ended up, and he's glad he did.
Personality:
While Pii's kobold heritage gives him a strong sense of honor, he is quick to anger. He's got no patience for those who put him at a disadvantage, no matter how slight. He's gruff and tough, but he's loyal at heart. He's not afraid to crack a joke or two.
Appearance:
At first glance, Pii looks like a knight. He's a bit shorter than most of the other knights, but he still stands tall. He's muscular, but not to the point of being bulky, and he always wears a large mustache on his snout. He's quite proud of it. Pii has a scowl that makes most people wary of him, but it quickly fades as he warms up to someone.
Start of Character:
He's traveling the kingdom to help defend the borders. He's particularly interested in finding out how to get to the capital city, the innermost point in the kingdom, as he has heard rumors of a great treasure that lies there. He's traveled all over the Kingdom and all around the borders of it. He's been searching for clues regarding the treasure for some time but to no avail.
Wren Searight
Female Halfling Knight
Born in Haldram | (Grabisco Kingdom)
STR 9 INT 9 WIS 9 DEX 16 CON 11 CHA 15
Backstory:
Wren grew up in a small town in the Kingdom of Grabisco. Her family always gave her the love she needed, but never enough attention. They wanted for her to be just like their parents. They wanted her to marry well and give her children a comfortable life. So she did. Her first marriage fizzled out, but she married again and gave birth to a son and daughter. They were happy. Until she found out her husband was an adulterer. She divorced him and her kids moved back in with her. She was depressed for a long time. She started drinking. She found out her children were not as innocent as she believed. They were after all, teenagers. She tried to make up for lost time. They didn't want to talk to her. So she ran away. Eventually she met a strong, silent, one-armed, round-shaped follower of Zan, who was going on a quest to reclaim the dead lands. She decided to go along with him.
Personality:
Wren's been through a lot. She's a serious person, but she's also very friendly and down-to-earth. She's got a great sense of humor. She doesn't like to kill, and she doesn't take kindly to the use of violence.
Appearance:
Wren is short, for her race (a halfling), and round. Her hair is dark and short. Her eyes are blue, and she has a dimpled smile most of the time. She's got a lot of scars, including one on her left breast and one on her left arm that severed the arm.
Start of Character:
Along with her one-armed companion, she's decided to travel through the Kingdom of Grabisco, looking for the one who's responsible for the death of one of her dearest friends.
Gorgena Nore
Female Ogre Knight
Born in Alderdine (Grabisco Kingdom)
STR 14 INT 3 WIS 14 DEX 12 CON 11 CHA 10
Knight Backstory:
Gorgena is the child of a peasant family, and they worked hard to provide for her. When she turned 5 years old, her parents took her to the Great Tower of Grabisco to plead their case for land. Gorgena had the power of sight, and she knew she'd be a farmer like her parents and grandparents before her. Things did not go well. Gorgena's parents were turned away and left, defeated.
Gorgena was later kidnapped by slavers and sold to a gladiator ring to fight for her life in the coliseum. She won a lot of battles and became a champion in the fighting pits. One day, a former gladiator turned himself into the coliseum's owner and told him about a law that had been passed allowing the slaves in the coliseum to become citizens of Grabisco.
The owner was furious, and he had the gladiator killed immediately. A few weeks later, Gorgena and the other gladiators were led out of the coliseum and given a bag with their clothes and personal belongings. Behind them, the coliseum was set on fire. Gorgena took her bag and left, wandering the streets of Alderdine for the first time. She's been there for a few weeks now, earning a living as a porter and helping the poor. She's recently come into a few coins, hoping to use them to find a good weapon and learn how to use it better.
Personality:
Gorgena started out as a shy, scared girl looking to provide for a small family. Over the years, she's become hardened to the horrors of the world. She's also become more self-reliant and has learned how to handle herself in a fight. She's not much of a friend, but she's fiercely loyal to the people she cares about.
Appearance:
Gorgena stands at 6 feet tall and weighs about 280 pounds. Her skin is dark green and she has a large scar across her face. She wears a ratty blue dress now. Her coarse hair is shoulder length and black. Her eyes are blackish teal.
Start of Character:
Gorgena wants to live a better life. She's heard about the western lands and hopes to travel there to find a new place to call home.
Kidek
Male Minotaur Knight
Born in Mirta (Grabisco Kingdom)
STR 20 INT 11 WIS 20 DEX 11 CON 9 CHA 14
Knight Backstory:
Kidek and his older brother were born in Mirta, a world of magic and danger. They were abandoned at a young age and found their way back to Mirta after many years, where they discovered their place in the world. Since then, Kidek has trained to become a knight of great skill, and now he hopes to become a great adventurer.
Personality:
Kidek is a kind and caring soul, always willing to help out those in need. He enjoys helping others and has a voracious appetite, consuming great amounts of food.
Appearance:
Kidek is a young man who wears colorful armors adorned with many nature symbols. He practices his combat techniques regularly to keep his skills sharp.
Start of Character:
Kidek has decided to brave the world of Grabisco, driven by the desire to bring back stories of his exploits.
Xandar Kree
Male Chaos Gnome Shadow Knight
Born in Cargan (Grabisco Kingdom)
STR 17 INT 10 WIS 7 DEX 16 CON 13 CHA 7
Knight Backstory:
The son of a fisherman, Xandar had little reason to stay at home. He knew he could provide better for his family if he made his way in the world. So, he packed his things and set off. With his father's blessing. For the first several years of his travels, Xandar found himself in the employ of numerous criminal enterprises.
He was a sicario for a while, but as it turned out, he wasn't very good at killing people. In fact, he was quite good at saving people. Xandar wasn't proud of his past, but he had made his peace with it. Now, he wanted to help people in any way he could. As a priest of Xaos, he had access to some rather useful spells and abilities.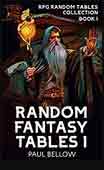 Fantasy RPG Random Tables Books
Make life as a Game Master easier....
If you play Dungeon & Dragons, Pathfinder, or other fantasy tabletop role-playing games, this
RPG random tables book
is full of encounters, NPCs, and more. I also have a complete adventure, including a dungeon map and room descriptions. Check out the
Dungeon Maps Described
series today!
Personality:
Xandar is a charismatic, friendly fellow who likes to be the center of attention. He also likes to win, so if he can't be the center of attention, then he'll settle for making sure his friends are instead.
Appearance:
Xandar stands at about 4'6" and has a chubby face and broad nose. His hair, which he dyes a vibrant red, sticks out like a scarlet dandelion. Xandar wears simple, light armor over a light blue robe. He also wears a large medallion with Xaos's symbol on it.
Start of Character:
Xandar is intent on making a new life for himself in Grabisco. He's not sure what he's going to do yet, but he's certain something will come to him in time.
Neeala
Female Brownie Knight
Born in V'lkin (Grabisco Kingdom)
STR 8 INT 15 WIS 8 DEX 17 CON 13 CHA 13
Backstory:
Neeala was born the daughter of a decorated knight. Her natural talent for combat was quickly recognized by her parents and she began her training rather early. She trained as a soldier in the Grabisco armed forces (the Coatham Elite Guard, to be exact) and was promoted to a knight when she was eighteen. Her father was proud of his daughter, although he missed her dearly.
Three years after she became a knight he was tragically killed while on patrol and Neeala became responsible for the care and well being of her mother and five siblings. Over the next few years, Neeala became a skilled leader and leader on the battlefield. She is well-laded in the ways of the sword as well as archery. When her mother passed on, she decided to leave the army with the full support of her siblings.
She has since been wandering about with one goal in mind: help the people of Grabisco and become a hero.
Personality:
Neeala is a very caring person, one who is willing to put herself at risk to help others. She is incredibly dependable and has no qualms with the killing of evil creatures.
Appearance:
Neeala is a bit on the heavy side, but no less capable. She has auburn hair that she keeps short and very curly. She wears an eye patch over her right eye which gives her a slightly more mysterious appearance. Her armor is well-travelled, but her weapons look freshly sharpened.
Start of Character:
Neeala has decided to travel throughout the Kingdom of Grabisco and beyond. She has put her skills to use and defended many a town from bandits and other evil humans. She hungers for adventure and has decided to join the quest to defeat the Lord of Bane.
More DnD Backstories for Knights?
Be sure to head over to LitRPG Adventures and create your own today. You can sign-up for free to check out the examples in the library (over 7,500 pieces of content already) or create your own by buying credits ala carte. Come join the community and get character backstories, monsters, dungeons, quests, spells, and more generated by powerful AI.