LitRPG is a book genre that allows readers to experience an RPG in a narrative format. Basically, it's a novel that includes game mechanics and some sort of progression that is shown to the reader via stats familiar to gamers. While most LitRPG novels take place inside a game, there are also books where the characters are in a world with game-like mechanics.
Basically, when you add game mechanics (especially stats, experience, and leveling) to science-fiction or fantasy, you get LitRPG books (shorthand for Literary-RPG or Literary Role-Playing-Games or Literature RPG – depending on who you ask.) Long story short, Books + RPG = LitRPG. Ready to learn more about this exciting genre?
As a LitRPG author for over four years now – and an author in other genres for even longer – I'm happy to help explain this sometimes confusing book genre. If you want to understand the definition of LitRPG, keep reading…or go on a side-quest and check out the LitRPG video game!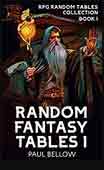 New Fantasy RPG Random Tables Book Available Now
Make life as a Game Master easier....
If you play Dungeon & Dragons, Pathfinder, or other fantasy tabletop role-playing games, this
RPG random tables book
is full of encounters, NPCs, and more. Available as an eBook or in a classic print format. Either way, you'll have a wealth of adventure ideas at your fingertips.
All About LitRPG Books
Definition of LitRPG
According to Magic Dome Books:
LitRPG is a subgenre of science fiction and fantasy which describes the hero's adventures within an online computer game. LitRPG books merge traditional book-style narration with elements of a gaming experience, describing various quests, achievements and other events typical of a video game.
Why would they know? They're responsible for publishing a lot of the Russian LitRPG that has been translated to English. The history of LitRPG is also connected to Japanese light novels – both fiction and the anime based off the books. Confused? So were we, which is why we put together this post.
UPDATE: (1/16/17) We've heard back from Magic Dome Books and have a bit more information from them about the origins of LitRPG in Russia and elsewhere in the world.
Some experts track the origins of the genre as far back as the mid-1980s but its initial popularity indeed peaked with the arrival of The Legendary Moonlight Sculptor. Its first translations appeared in Russia around 2010, triggering a wave of fan fiction from new budding Russian authors who came up with a name for the new genre: LitRPG.

Three published authors became the founders of the genre in our country. I'm talking about D. Rus, V. Mahanenko and D. Mikhailov. All three originally contributed their series to Russia's bestselling "LitRPG" project which is published by EKSMO, Russia's biggest publishing house, since 2013.

The word "LitRPG" as the project's title was suggested by the project's producer Alex Bobl in a brainstorming session with V. Mahanenko and EKSMO's science fiction editor-in-chief Dmitry Malkin. Later, other gifted Russian authors joined the project, such as M. Atamanov, A. Osadchuk and A. Livadny.
We will be conducting a more in-depth interview with them soon. Check the blog or sign-up for our newsletter to find out when it's published. You can also visit the "What's a good definition of LitRPG?" thread over at LitRPG Forum. Author Conor Kostick and others are discussing the topic.
---
History of LitRPG in the United States
Whether the father of LitRPG is Piers Anthony or Joel Rosenberg is up for debate, but "soft" LitRPG has been around for at least a couple decades if not more. Recently, as in the last few years, a new wave of American LitRPG written in English for a U.S. audience has hit.
Writers like…
A Third Wave of Authors?
This is a definite possibility with the Ready Player One movie coming out in 2018. Many current authors are looking into publishing Lit-RPG novels soon. A whole slew of newbie authors are also entering the ring to duke it out for the attention of readers.
---
Standard Definition of LitRPG?
This is definitely a difficult question. It depends on who you ask. As mentioned above, Conor Kostick recently started a thread titled What's a good definition of LitRPG? Both authors and readers have weighed in on the discussion. It's an interesting thread, for sure.
While they're still hammering out the details, a more detailed definition of LitRPG is slowly emerging. One of the great things about this new sub-genre is that it's still evolving. It's also been around since before the term LitRPG was coined by three Russian writers.
---
Popular Books?
Again, this is a subjective question and depends on who you ask. Over at the LitRPG Forum, we have a running thread of LitRPG Recommendations. While you're there, you can also check out the latest releases – and easily sort them by release date.
With that said, here's a few great books to get you started if you're brand new to the genre.
---
Best Series?
This too depends on your opinion, but the popular books mentioned above are all series. When you find one you love, you can look forward to devouring all that are available. A lot of series are ongoing and have frequent release schedules, like Emerilia by Michael Chatfield.
---
The Christmas 2017 Jumanji Movie
If you want a look at how the genre works in action, you can should turn your attention to both the new and original Jumanji films. While there's certainly a lot of room to argue that the movies don't quite fit the popular conception of the book genre, they definitely align with the working definition.
Game as Setting
Both Jumanji films use a game as an important part of the setting. In the original film, the main character was trapped within a board game for decades. In the new movie, four high school students are trapped within a video game. In both cases, it's the game that makes the movie.
It's not incidental in either case that the place in which the characters are transported is a game; the films wouldn't be the same if they were transported to another planet or universe. The game and its rules are as much a character as any human in either movie.
Meta-Awareness
It's also very clear that all the characters involved in the movies are aware that they are playing the game. Alan Parrish, the character of the first game, always refers to the place in which he was trapped as a game. When the characters seek the solve the main conflict of the film, they do so through playing a game. This awareness never goes away. They're not just characters dealing with a threat – they're characters dealing with a game.
The new Jumanji film goes a step further by having the characters directly state that they are in a game during the film. They are fully aware that they aren't in their usual forms or in the place they belong. When they react to something, they react as if they are in a game. Everything they do is driven by the fact that they are dealing with the rules of a game.
Jumanji is a perfect example of how broadly the rules can be applied. This makes the entire genre much larger than most might assume, giving fans a much wider array of media from which to choose. If Jumanji counts as part of the genre – and by the rules, it should – there are many other classic works that should also be included in the genre. If you're willing to take the definitions as written, you'll find that you've probably enjoyed many works in this genre without knowing it had a name.
---
Toward a Better Definition
Over at the retro Forum, a group of authors (and readers) are hammering out a better definition of the genre. You can follow along or add your own input. Here's what they have so far…
LitRPG is a literary genre where games or game-like challenges form an essential part of the landscape. A work in this genre simultaneously narrates the story of characters inside and outside of the game-world.

At least some of the characters in a novel therefore understand that they are playing a game: they are 'meta-aware'. So, while Tolkien's Lord of the Rings is a fantasy novel, a book about people creating avatars and interacting in a Lord of the Rings MMORPG would be a LitRPG novel.
Read the rest of the "What is a Good Definition for LitRPG?" thread.
GameLit vs LitRPG
The term GameLit was coined by Dustin Tigner and several others after a supplementary trademark for the term was granted. (More on that in a future article.) Keep an eye on the GameLit.org website for more news.
Gamification of the Genre
We've mentioned LitRPG Forum a few times now. Our sister-site offers a place for authors, fans, and readers to gather together and geek out on an old school forum. The site offers gamification features. For example, you earn virtual gold for posting and replying in threads.
You can also earn experience points, level up, buy and trade items, and much, much more. A recent popular thread discusses a formal LitRPG definition. The ideas and comments so far have been very useful in understanding more about the Lit-RPG genre. (Updated: April 2021)