I've got three tremendous druid backstory generator examples for you! If you love Dungeons & Dragons or Pathfinder, you need to check out LitRPG Adventures Workshop, the AI tool I used to create these backstories. It can give you a lot of ideas for characters. You might also enjoy our D&D Backstory Generator or our D&D random encounter tables collection.
Druid Backstory Generator Samples
Here are three unique backstories for druids that I made with the LitRPG Adventures Workshop RPG generators.
Druid Backstory #1
Zul
Male Gremlin Druid
Born in A small village within the Sussurian Jungle
STR 14
INT 17
WIS 18
DEX 12
CON 13
CHA 9
Druid Backstory:
Zul grew up under the care of his parents, always terrified of what might happen to him if he were to stray too far. He was fiercely loyal to them and never strayed too far from home.
As he got older, he tired of the regimented lifestyle. He wanted to see the world, to explore and see the many wonders of Grabisco. His parents were reluctant to let him go, but they knew that he was becoming independent.
For a short time, he was content to stay home, but the desire to adventure grew stronger and stronger until he felt like he couldn't survive another day. He set out to explore the world, and now Zul sees that he can't live without the thrill of adventure.
Want FREE Wizard Character Backstories?
Want a full book of wizard backstories?
Get your
FREE Wizard Backstories
today.
Or, if you want to create your own D&D backstories (and more), head over to
LitRPG Adventures
today.
Personality:
Zul has a strong sense of loyalty, which sometimes gets him into trouble. He is a bit naive but intelligent. He likes to think he can be friends with anyone, even if they're different than him.
Appearance:
Zul has light brown hair and a medium complexion. He has a wide nose, small ears, a slender build, and a slightly long face. He dresses in simple, brown clothes that flow with the wind when he walks or runs. He is a short gremlin and bears a staff and a spear when fighting.
Start of Character:
Having found himself in the town of Blinkenberg, Zul decides to travel throughout Grabisco to see all the wonders it has to offer.
D&D Druid Backstory #2
Sarsaparilla
Female Wood Elf Druid
Born in The Grove of the Autumn Night
STR 16
INT 15
WIS 13
DEX 17
CON 16
CHA 16
Druid Backstory:
The wood elves of the Autumn Grove live in the wilderness, far from the cities and towns of the human races. They believe that all of nature can be destroyed in the wake of human greed and folly. Some elves, including Sarsaparilla, believe that they are the only hope for the future of the natural world. Sarsaparilla, however, is not a typical elf. She is a hermit and a recluse and is often seen as crazy by other elves. She is also the only elf known to have a spirit animal.
Personality:
Sarsaparilla is the first to tell you how other people see her. She's believes that the people who believe she's crazy are crazy, and the people who don't are crazy. She has no interest in making friends and is constantly travelling throughout the kingdom of Grabisco, preaching the great and powerful Jabajaba. She knows that she is on a quest that is bigger than herself, and although she has seen many setbacks, she will not stop until she has finished her mission.
Appearance:
Sarsaparilla has a very odd appearance. She has long, silver-blonde hair and is very pale, more so than her wood elf kin. She has dark circles under her eyes, and she constantly looks as if she hasn't slept in days. She wears loose-fitting robes and at all times carries a small satchel with a variety of useful herbs and potions.
Want FREE Wizard Character Backstories?
Want a full book of wizard backstories?
Get your
FREE Wizard Backstories
today.
Or, if you want to create your own D&D backstories (and more), head over to
LitRPG Adventures
today.
Start of Character:
Sarsaparilla has travelled to Grabisco to spread the word of Jabajaba. She has traveled all the way from the Autumn Grove in the Sussurian Jungle to spread the word of Jabajaba and to learn the truth about him. Although she may not realize it, she is on a quest to save the entire world.
D&D Druid Backstory #3
Aonara Neolo
Female Human Druid
Born in The Village of Kenman
Make Your DM Happy With This Tool!
Over 14 RPG generators currently online.
Try my
D&D Backstory Generator
today. Members get access to library of content.
STR 15
INT 17
WIS 16
DEX 13
CON 14
CHA 17
Druid Backstory:
Aonara grew up in a family of druids who tended to the needs of their community. They were respected in the village, so much so that when Aonara was a student in her elementa school, she was chosen to be an initiate druid of the Order of the Tenfold Leaf. She was ecstatic, and for the next several years, she studied healing and the ways of nature, eventually becoming a full-fledged druid. She traveled throughout the continent, tending to the needs of the common folk. Now she has returned to the village where she was raised, and is in charge of the local chapter of the Order of the Tenfold Leaf. It's her turn to teach, and lesson number one is always to treat everyone with kindness and respect.
Personality:
Aonara is down to earth, gentle, and cheerful. She loves to share the lessons she has learned with the people around her. When she is confronted with a difficult decision, she takes time to consider all of the options. She is the type of person who would sacrifice her life to help another.
Appearance:
Aonara has piercing blue eyes and long blonde hair that is usually pulled back in a ponytail. She is lithe, and stands 5'4". When called upon to perform her druidic duties, she usually wears a green robe. She wields a staff and a dagger in battle.
Start of Character:
Aonara has returned to her home village after a long and arduous journey. While she would like to resume her druidic duties, she realizes that she must first focus on proving that she is not a traitor.
More Druid Backstory Examples?
If you want even more druid backstories, head over to LitRPG Adventures Workshop and become a member of the community today! You can create your own stuff with the AI tools provided or browse the ever-growing library of unique RPG content! We've got a Druid Backstory Generator and so much more!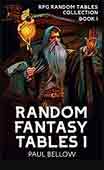 New Fantasy RPG Random Tables Book Available Now
Make life as a Game Master easier....
If you play Dungeon & Dragons, Pathfinder, or other fantasy tabletop role-playing games, this
RPG random tables book
is full of encounters, NPCs, and more. Available as an eBook or in a classic print format. Either way, you'll have a wealth of adventure ideas at your fingertips.