Spread the love, earn +42 xp...
How I received access to the GPT-3 API from OpenAI and continued my work on a set of RPG content generators.
A couple years ago, Janelle Shane wrote about using an RNN (recurrent neural net) to create D&D character backstories. She used a dataset supplied by her readers. I stumbled across her blog post while researching during my experiments with a character backstory generator of my own using GPT-2.
After emailing Greg Brockman at OpenAI and explaining what I'd been working on and asking for access to the GPT-3 API beta, I was surprised to find out I was accepted. I quickly got to work, putting together a very rough examples.
Unlike my work with GPT-2, I wasn't using fine-tuning on GPT-3 at all. I simply gave it two examples of what I wanted, and it was able to figure out the rest.
One of my hopes is to fine-tune GPT-3 in the future, using data generated with the LitRPG Adventures Workshop, a collection of twelve RPG content generators created with two-shot (two examples) and GPT-3 (not fine-tuned.)
Love Tabletop Gaming?
Get access to
26+ RPG generators + our growing RPG content library.
Try my
D&D Backstory Generator
...
Yes, I want to feed GPT-3 output back to GPT-3. For now, I'm working on monetizing LitRPG Adventures Workshop to pay for an eventual text-based, 2D MMORPG powered by GPT-3. I actually began that soon after my initial character backstory tests, but I ran out of time before OpenAI began charging for access to the worlds most powerful language model.
Don't get me wrong. I totally get it. And I'm lucky that I'm one of the ones with early access. At the same time, I needed to make a business decision and finish the Workshop (a collection of generators) to help pay for continued access to GPT-3 and test various things for an eventual MMORPG powered by GPT-3.
Yes, it's an ambitious project. I've recently joked that I'm old enough to know it's a foolish endeavor and will likely fail, but I'm still young enough to think I can do it anyway. Small smile.
In all seriousness, launching LitRPG Adventures Workshop has been an amazing experience. We already have over a dozen members in the community, and we're working hard at improving the generators and getting them ready for the eventual MMORPG.
If you're curious about GPT-3 and D&D (what I jokingly call GPT-3e), please check out LitRPG Adventures. You can also contact me on the LitRPG Adventures Blog. I just launching on Friday, October 2, 2020, so you can expect many great things in the future. For now, check it out and let me know what you think.
Down for a special quest? Check out the #LITRPG_AI_GAME room at the LitRPG Forum Discord! We've been discussing and brainstorming how to make LitRPG Adventures better for gamers, DMs, and even authors and game developers. If any of those things tickle your fancy, drop on by.
That's it, for now, but I want to leave you with some GPT-3 Dungeons and Dragons examples that I've put together.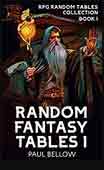 Fantasy RPG Random Tables Books
Make life as a Game Master easier....
If you play Dungeon & Dragons, Pathfinder, or other fantasy tabletop role-playing games, this
RPG random tables book
is full of encounters, NPCs, and more. Available as an eBook or in a classic print format. Either way, you'll have a wealth of adventure ideas at your fingertips.
Spread the love, earn +42 xp...