Is the Dungeons and Dragons movie coming out in 2022? No. It's being released on March 3, 2023. However, this isn't necessarily a bad thing. I don't want Dungeons and Dragons movie 2022 fever rushing this chance at a great D&D movie. As long as the world doesn't fall into another Dark Ages period, spending more time on the movie makes sense to me. After so many mediocre and downright awful D&D movies over the years, it's time for this fantasy tabletop legend rolls a 20 when it comes to a film adaptation!
Is there a new D&D movie coming out?
Yes. We'll talk about the cast and some other details below, but the good news is that after 20+ years, we're finally getting a new D&D film. There's a lot of pressure, but that might turn out to be a good thing. More than one person has failed (to various degrees) in making a good Dungeons and Dragons movie.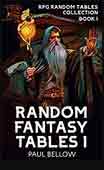 Fantasy RPG Random Tables Books
Make life as a Game Master easier....
If you play Dungeon & Dragons, Pathfinder, or other fantasy tabletop role-playing games, this
RPG random tables book
is full of encounters, NPCs, and more. I also have a complete adventure, including a dungeon map and room descriptions. Check out the
Dungeon Maps Described
series today!
With a lot of money available and a strong world, there's a good chance we might finally get a decent D&D flick. This is definitely my hope. While each of the previous three main movies are okay in one way or another, none of them became the classic D&D movie that we all want. Maybe they'll get it right this time!
Is Dungeons and Dragons done filming?
Yes! According to ComicBook.com, filming wrapped up in August of 2021. That there's still a couple years for the movie to be released is again another good sign that they're taking their time and not rushing something to market.
The fact that filming is done, however, means that they likely won't be able to back out because they've spent a ton of money so far. I don't want to jinx things, but the fact that they've wrapped the filming part of the movie is a good thing.
Where Was Dungeons and Dragons (2023) filmed?
The new Dungeons & Dragons movie was filmed in the UK, including some castles in Ireland. Here's Michelle Rodriguez on set last summer.
The Dungeons & Dragons movie has filmed scenes at several historic locations throughout the UK, with scenes filmed at Wells Cathedral and Alnwick Castle earlier this summer.

Notably, Carrickfergus Castle has a banquet hall to its medieval presentation, which could explain why the movie is filming scenes there.

Christian Hoffer at ComicBook.com
The fact they're finding good locations to shoot is yet another good sign… Okay, okay, I'll cool it, but I'm seriously excited about this movie!
Is Joe Manganiello in the Dungeons and Dragons movie?
No. While he would be a perfect fit, he passed for other projects he's working on, according to Variety.com. A trivia bit at IMDB claims, "Actor Joe Manganiello revealed on the Happy Sad Confused podcast that he co-wrote a D&D script, but it is unknown if it was incorporated into John Francis Daley and Jonathan Goldstein's script."
What is the plot of the new Dungeons and Dragons movie?
The Dungeons & Dragons movie synopsis:
An ex-Harper turned thief escapes from prison with his partner, a female barbarian, and reunites with a no-talent wizard and a druid new to their team in an effort to rob the cheating conman who stole all their loot from the heist that landed them behind bars, and used it to install himself as the Lord of Neverwinter. Only the traitor is allied with a powerful Red Wizard who has something far more sinister in store.

Source: Esquire Article
If you've read D&D novels, you know the Harpers are a well-known part of D&D lore and answers my question above about what world the D&D movie would be set in… it's the Forgotten Realms.
Is there a Dungeons & Dragons movie I can Watch Now?
Yes, there's the old D&D movies. As mentioned, they're not great. There's also the Saturday Morning Cartoon which was decent when I was a little kid. (I have to admit I'd love a live-action movie based on that cartoon if it was done well!)
Here's the D&D movies that are already released.
Mazes And Monsters (1982)
Dungeons & Dragons (2000)
Dungeons & Dragons: Wrath Of The Dragon God (2005)
Dragonlance: Dragons Of Autumn Twilight (2008)
Dungeons & Dragons: The Book Of Vile Darkness (2012)
Dungeons and Dragons Directors, Writers, and More
Do You Love DND & Tabletop Gaming?
Get access to
26+ RPG generators + our growing RPG content library.
Try my AI-powered
DND Backstory Generator
or my
Random Dungeon Generator
built with GPT-3 from OpenAI.
Here's some info on the writers.
The director-writer team of John Francis Daley and Jonathan Goldstein, who previously blended comedy and action with "Game Night," have stepped up as the Dungeon Masters/directors to helm the story. It certainly couldn't have been an easy feat. Games being adapted into movies is not a new thing and usually, the results are mediocre at best. Video game movies and shows have a spotty track record.
And here's some details on the cast…
Headlining the cast are Chris Pine and Michelle Rodriguez, who star in leading roles, but whose characters remain unnamed. Given that the ex-Harper and the female barbarian are listed first in the official synopsis, we're guessing Pine and Rodriguez will play these key roles. Pine and Rodriguez were recently spotted on set in northern Ireland, with Rodriguez kitted out in medieval attire.

Source: Esquire
Overall, it looks like the Dungeon and Dragons movie in 2022 + 1 is gonna be good! Here's hoping!