Is the additional delay of the new Dungeons & Dragons movie painful but possibly good?
The Dungeons & Dragons movie's new release date following the delay is now set for March 3, 2023, making it the second delay to hit the film since it was first announced. The first delay pushed the movie's release from November 19, 2021, to May 27, 2022, but COVID-related issues and the uncertainty surrounding the film industry's future forced plans to change.

Liana Ruppert at Game Informer
Here's the thing about Dungeons & Dragons movies. We've had a better car commercial than movie so far. Yes, there's been attempts, and there's been some good stuff, but no single D&D movie has knocked it out of the park … yet. I have hope for the new D&D movie and I think the delay might be a good thing. This is why.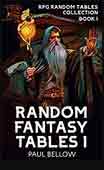 Fantasy RPG Random Tables Books
Make life as a Game Master easier....
If you play Dungeon & Dragons, Pathfinder, or other fantasy tabletop role-playing games, this
RPG random tables book
is full of encounters, NPCs, and more. I also have a complete adventure, including a dungeon map and room descriptions. Check out the
Dungeon Maps Described
series today!
Reason #1: Slow and Careful Makes a Good Movie
The fact they're not trying to rush this out the door is a good thing. Too often we get sequels and prequels and reboots that feel like they're just jumping on whatever bandwagon they can find. The D&D movie is in good hands, and I'm glad they're taking their time to get it right. What they've shown so far looks good.
Reason #2: A Lot of People Are Going to Be Watching
I think the D&D movie is going to be a big deal. You've got a built-in audience and also a lot of people who've never played the game and want to see something (anything?) about it. This is going to be a big deal. It's going to be the largest budget D&D movie ever, and that's going to show.
Reason #3: A Good Movie Can Last a Lifetime
The D&D movie could be a good movie. It could be a great movie. Pause for a minute and think about the Star Wars movies. The first Star Wars movie was released in 1977. It's been 40 years, and there are still people who want to make a new one. Why? Because the first one was a good movie, and it's still a good movie.
Reason #4: A Good Movie Can Be a Big Deal
Good fantasy movie have long-lasting appeal. Like Conan the Barbarian and (to a lesser extent Conan the Destroyer and Red Sonja) or Lord of the Rings and the Hobbit movies. I suspect the D&D movie will be a big deal, and I suspect it will be a good one.
Reason #5: Good Movies Stick
Let's say the D&D movie is a great fantasy film. It's going to stick. It's going to be a great film for your kids and your kids' kids. Pop it in on a rainy day and watch it with your kids. It's going to be a great film to share with friends.
Reason #6: You Can't Be Famous Forever… Or Can You?
If Dungeons & Dragons is a big deal now, it's going to stick around. It's going to stick around in the culture. If it's a good movie, it's going to be around for a long time.
Reason #7: Great Movies Can Inspire New Success
If Dungeons & Dragons movie is great, it will inspire other D&D movies. If you're the D&D movie team, isn't that what you want? And if you're a fantasy fan, good D&D movies are very much welcome.
The D&D Movie, May it Be Great
I really hope Dungeons & Dragons is a great fantasy movie. I'm hopeful. It has a great cast, including Chris Pine, Michelle Rodriguez, Justice Smith, Regé-Jean Page, Hugh Grant as Forge Fletcher, Sophia Lillis as Doric, Chloe Coleman, Jason Wong as Dralas, and Daisy Head.
The movie looks like it's going to be good. It's not just good, it's great. Great enough to stand the test of time. Great enough to inspire other great movies. Great enough to inspire other D&D games, and other D&D products. That's what I want. Great movie, great game, great times with my friends.
What do you think? Find us on Twitter and let us know!