Here's my list of the 9 best RPG games for PS4 that you should be playing in 2021. This is not a list of what RPG video games have come out this year, but it is a list of the Best RPG Games for PS4 you can play right now.
The Witcher 3: Wild Hunt
The most awarded video game of 2015 is still being played today because it's so good. You'll want to get the Complete Edition if possible. The good news is that you can pick up the basic version of the game for around $10 now if you want to play it on the Playstation 4. According to many, The Witcher 3: Wild Hunt is still one of the very best RPG that money can buy for a PS4 RPG.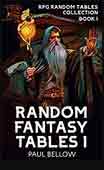 Fantasy RPG Random Tables Books
Make life as a Game Master easier....
If you play Dungeon & Dragons, Pathfinder, or other fantasy tabletop role-playing games, this
RPG random tables book
is full of encounters, NPCs, and more. I also have a complete adventure, including a dungeon map and room descriptions. Check out the
Dungeon Maps Described
series today!
It's easy to forget that The Witcher 3 is packed with dark comedy and dumb jokes. Humour can be a slippery slope in any medium, but here it's used to excellent effect. The world of The Witcher 3 is often so gritty and damning that an aversion to comedy could render the experience overly oppressive. It's fortunate, then, the title's got such a great sense of humour. From farting farmhands to Geralt's sarcastic quips, it's the comedy that makes the game's characters feel grounded and human.

Source: PushSquare
Bloodborne
Bloodborne is an action RPG developed by FromSoftware and released by Sony Computer Entertainment, exclusively for the PlayStation 4 platform. There's a Complete Edition available, but the normal version for around $20 is worth it too if you're trying to save some bucks. In the game, you hunt for answers in the ancient city of Yharnam, which is cursed with a strange illness spreading through the streets.
The game has a very solid Metascore of 92 with over 100 professional reviews at MetaCritic.
This game is probably the most difficult game I've ever played, and probably will go down as one of the most difficult games of all time. Saying that, is it worth buying it? Absolutely. I was hesitant at first (I never played any soul games before this one), but I ended up buying it anyway. The game is a beauty from the first level to the last. A masterpiece puzzle is what I call it.

Source: Amazon Review
Mass Effect Legendary Edition
Mass Effect Legendary Edition is a compilation of the video games in the Mass Effect trilogy: Mass Effect, Mass Effect 2, and Mass Effect 3. It was developed by BioWare and published by Electronic Arts. All three games have been remastered with better graphics and bug fixes. If you're going to play Mass Effect on the PS4, you need to get this version. That's all there is to it.
I knew this game was something special the first time I saw the updated visual of the functioning Mass Relay. Gosh darnit, the Mass Relay was beautiful, clear crisp well defined not foggy and blurred. The space around the Mass Relay was not that blue tint it was black with tiny stars a plenty. The graphics improvements are everywhere. Looking at the old Mass Effect on PS3 was like watching everything through glasses covered in a thin layer of grease. Blurred, faded and dim.

Mass Effect Legendary Edition for PlayStation 4 is crystal clear. The controls are more responsive. Things move faster. The elevator ride load screens are shorter. There are changes in the intro and character setup that I found more fun and less tedious. It is stunning that at every turn you feel as if you are experiencing Mass Effect for the first time because you simply see everything more clearly. The flesh on the characters look better. When people talk you don't see the hollow insides of their head.

Source: Amazon Review
Horizon Zero Dawn
Horizon Zero Dawn is a ARPG (Action RPG) developed by Guerrilla Games and published by Sony Interactive Entertainment in 2017. The game story follows Aloy, a young hunter in a world overrun by machines. Overall, it's a great game that won a lot of reviews. It's not your typical RPG in many ways, but this is a good thing. When it comes to the best RPG games for PS4, this is solidly on our list.
I don't like open-world games, but when I watched a couple reviews on YouTube, I felt like I might enjoy this game after all, and decided to give it a shot. What I didn't expect was that not only did I end up enjoying the game, it because one of my favorite games of all time. Deep, story-driven game with an incredible, rich, actually LIVING open world, that is absolutely full of meaningful things to do. Each collectible contributes something to the lore, and every side quest feels like it is actually worth doing, providing us with interesting side-stories and endearing characters.

Not to mention, The Frozen Wilds is probably the best DLC I've ever played, for any game, and the Waterlogged story is by far the best sidequest I've ever played since Mass Effect 2's Lair of the Shadow Broker. Waterlogged gave me an extremely deep, emotional story that is both heartfelt and heartbreaking (and Concrete Beach Party is the best band in the world). A couple of the main story quests of the base game felt a little unpolished, but my complaints are negligible. I cannot recommend this game enough. Absolute masterpiece of a game, and I'm absolutely dying for a sequel.

Source: Amazon Review
Dark Souls III
The latest, greatest Dark Souls game is worth the money – even if you haven't played any other Souls game. If you haven't, you should know that this is one of the most difficult and unforgiving RPG video games of all time. Dark Souls 3 is an action role-playing video game developed by FromSoftware and published by Bandai Namco Entertainment. It is actually the 4th Souls game, but the third in the trilogy.
Bloodborne is one of my favorite games. Using that knowledge I decided to give DS3 a try. If you're unfamiliar with the Souls series (like me) but love Bloodborne chances are you will enjoy DS3. It has similar controls and character movement to Bloodborne so it's a smooth transition. The graphics aren't world breaking. The music fits it perfectly. I die enough to make George R. R. Martin scoff. It's exactly what I expected. I highly recommend this game if you enjoy a challenge.

Source: Amazon Review
Divinity: Original Sin 2 – Definitive Edition
Yes, you want to get the Definitive Edition of this game. Divinity: Original Sin 2 is \a role-playing video game developed and published by Larian Studios. They're the ones working on Baldur's Gate 3! This turn-based RPG is a modern classic in many ways. The gameplay is great, the story is great, and it's a good value for your money. All those reasons are why it ended up on our best RPG games for PS4 list.
Diablo III: Ultimate Evil Edition
There's quite a few editions of Diablo 3 available now, but we think you should pick up the Ultimate Evil edition. Basically, the Ultimate Evil Edition of Diablo 3 contains both Diablo III and the Reaper of Souls expansion set, together in one definitive volume. Published by Blizzard Entertainment, but please don't hold that against the game! In all seriousness, this is the latest incarnation of a classic Action RPG series.
Remember when you were 13 and you would stay up all night playing video games, drinking soda and eating junk food? Eyes glued to the screen, you'd play until you couldn't stay awake any longer, so you'd pass out on a mat you made in the floor and dream about all the fun you were going to have the next day when you finally beat that level.

I thought those days were over until I brought home this jewel. An incredibly addicting game that holds your attention, this game was worth the money. Super fun, tons of content that keeps the fun going. Best part is that its up to four players offline, so my wife can play with me and I can show her how much better at games I am and rub it in her face.

Source: Amazon Review
Dragon Age: Inquisition
Dragon Age: Inquisition is an action role-playing (ARPG) video game developed by BioWare and published by Electronic Arts in 2014. It is the third major game in the Dragon Age franchise, and it's a game that not a lot of people know about. If you're a fan of role-playing games, you're going to want to check this one out. Become an Inquisitor and wield the power of the Inquisition over the course of an epic character-driven story.
First time with the series. Graphics are awesome and love the story. So many things to do that I've lost myself in the side quests and barely progressed thru the main story. If you are a fan of action RPG, don't hesitate. It's a great value at 39.99. Dragons fights are pretty epic and passing judgments on foes you've defeated was a neat concept.

Game forces you to pick sides and has multiple endings based on decisions you make during the missions. I normally do not replay games, but I think I'll give this one another whirl 3-4 months after I beat it. Tons of history and background. Doesn't matter whether you've played the first two games in the series.

If you really want to know what happened in the dragon age lore, Bioware allows you to get caught up via Dragon Keep. It walks you through the first two games and allows you to decide how the first two games play out. That world you've created then can be imported into inquisition, which subtly affects the story and history in Thadeas. I give it 4.5 stars.

Source: Amazon Review
Slay the Spire
Love collectible card games and roguelike games? If so, you need to check out Slay the Spire. Slay the Spire is a roguelike video game developed by American studio MegaCrit and published by Humble Bundle. It first launched (kinda) in 2017. It fully launched in 2019 after a lot of playtesting and bug squashing. This interesting mix of RPG genres is definitely worth the money if you're looking for the best RPG games for PS4 to play.
I feel like I've been spoilt – properly, massively spoilt. Until now, deck building games have not held much allure for me – whether it was Hearthstone, Gwent or Hand of Fate, it's fair to say that I greeted each with the sort of excitement one might exude if they had to eat a turd sandwich for lunch (or indeed any other time of day). Therefore it would take a supremely rare offering to rally my attention, and Slay The Spire is absolute that and then some.

Slay The Spire doesn't just raise the bar, it breaks it over the head of its genre brethren, stands atop the skyscraping pike of their corpses and places a new one – a golden, soaringly high standard that looks set to remain unbeaten for years.

Source: PSU Review
Best RPG Games for PS4
Did I miss some of the best RPG games for PS4? Find me on Twitter and let me know!