It's a good time to be a gamer. We wanted to take a quick look at all the great video games coming out this month for PS4, Xbox One, PC, and the Nintendo Switch.
If you like RPG, shooters, or other types of games, there's sure to be something on that will get you excited. From the new Frostpunk for the PC to God of War for PS4, there's a lot to look forward to in April 2018 when it comes to gaming.
Whether you're a console gamer or solely have fun on your PC, we've put together a sweet breakdown of all the video games releasing in April 2018. Sinner: Sacrifice for Redemption looks particularly interesting (to us) with game play that starts you off OP (overpowered). Yes, you get weaker as the game goes one. Will it be fun? Only time will tell.
For now, enjoy our video game roundup for April 2018 video game releases.
April 3, 2018 Video Games
No matter what gaming system you primarily use, you're going to have something new to look forward to on April 3rd.
Penny-Punching Princess – (Switch, PS Vita)
In a world ruled by capitalism, cash is king! In Penny Punching Princess, use the money you gather to bribe enemies to fight for you, activate deadly traps with your dough, and when all else fails, smash all that stand against you with your fists! Fight your way from nothing and amass treasures to take on the mighty Dragoloan family and reclaim your kingdom!
Minit – (PC, PS4, Xbox One, Linux, Mac)
Minit is a collaboration between Kitty Calis, Jan Willem Nijman, Jukio Kallio & Dominik Johann. The video game is a peculiar adventure you play sixty seconds at a time. In it, you will journey outside the comfort of your home to help weirdos, uncover secrets, and overcome dangerous foes. Can you end your blasted "Groundhog Day" curse?
April 10, 208 Video Games
On April 10th, we have three more video games coming out, including something for all platforms – even PC.
Dark Rose Valkyrie – (PC)
Dark Rose Valkyrie is a Japanese role-playing video game developed by Compile Heart and published by Idea Factory. The game plays as a Japanese role-playing game, but also includes visual novel segments where the player must interview characters to identify a potential traitor among the player's party of characters.
Extinction – (PC, PS4, Xbox One)
Ready to battle huge ogres? You need to check out Extinction. Officially known as Primal Carnage: Extinction, this is is a class-based, online multiplayer video game featuring human versus dinosaur combat. Released in 2015 for PC and PS4, it's coming to Xbox One to add to their great lineup of games.
Regalia: Of Men And Monarchs – (PS4, Xbox One, Switch)
Love tactical RPG? We do too! Regalia: Of Men And Monarchs is a tactical RPG set in a cheery fantasy world full of wonder and weirdness. In the game, you assemble your party, go adventuring, manage your kingdom, and defeat your opponents in challenging (but fun) turn-based combat. This is a must-see.
April 11, 2018 Video Games
Only a couple video games are releasing April 11th, but they're two that will have a lot of gamers excited.
Maelstrom – (PC)
Maelstrom is a third-person action game with fast-paced, tactical, ship-vs-ship combat, customization, progression and a focus on multiplayer. It's coming on Steam for the PC. The game's been in early access a while which means – hopefully – they've worked out a lot of the bugs and kinks in the game.
Hellblade: Senua's Sacrifice – (Xbox One)
Hellblade: Senua's Sacrifice is a dark fantasy action-adventure game developed and published by Ninja Theory. The game was released worldwide for PC and PS4 in 2017. The new Xbox version is landing April 11th, 2018. If you like your fantasy dark, this is one you need to check out.
April 12, 2018 Video Games
There's only one game being released on April 12th, and it's not available for PC, but if you're a console gamer, you're going to want to check it out.
Rogue Aces – (PS4, Xbox One, Switch)
This is an old school procedurally-generated aerial arcade shooter. Remember Time Pilot? This isn't that game, but for fans of the classic, it's something to look into. In Rogue Aces, you'll battle for air, sea and ground supremacy while gradually upgrading your precious aircraft's stats.
April 17, 2018 Video Games
There's only one game coming out on April 17th, and it's only for Playstation 4, but it might be one you enjoy.
Yakuza 6: The Song of Life – (PS4)
Yakuza 6: The Song of Life is an action-adventure video game developed and published by Sega for PlayStation 4. How far will you go for family? Hoping to quietly settle down after a brief stint in prison, reformed yakuza Kazuma Kiryu returns to find danger surrounding the lives of those he values most.
April 19, 2018 Video Games
April 19th only has one video game releasing, but it's a PC game that a lot of strategy wargamers will want to get.
Total War Saga: Thrones of Britannia – (PC)
Total War Saga: Thrones of Britannia puts you in charge of a Viking-era kingdom, as you battle neighbors and enemies to create a kingdom built to last. The Total War engine has been refined over the years, and it shows in this iteration.  Thrones of Britannia is historical and is next to be released, but it's a Total War Saga game.
April 20, 2018 Video Games
We have a few games being released on April 20th that you should know about. Okay, one you really should love – God of War. Nintendo has something releasing too.
God of War – (PS4)
God of War (2018) is the eighth installment in the God of War series. The game is a third-person action-adventure video game developed by Santa Monica Studio. The story is a new direction for the series, as it will be loosely based on Norse mythology. The previous games were based on Greek mythology.
Nintendo Labo Variety Kit – (Nintendo Switch)
Make a Toy-Con RC Car, Fishing Rod, Motorbike, House, and Piano using pre-cut cardboard sheets and simple, interactive instructions. Then, Play! Steer the RC Car, reel in fish from the ocean, drive your Motorbike, interact with a creature in the House, and play tunes on the Piano.
Nintendo Labo Robot Kit – (Nintendo Switch)
Make a Toy-Con Robot suit…to become a robot in the game! Fold pre-cut cardboard sheets by following interactive instructions and then suit up to get playing. Wreck in-game environments and beat challenges to unlock powerful abilities. Then discover how the Toy-Con Robot comes to life!
April 24, 2018  Video Games
Adventure Time: Pirates of the Enchiridion – (PC, Switch, PS4, Xbox One)
The Land of Ooo is underwater, and it's up to Finn and Jake to find out why. Join our heroes as they explore dangerous waters, search for clues, interrogate pirates and fight bad guys to solve this wet, wet mystery and save the day!
Darkest Dungeon: Ancestral Edition – (PS4, Switch)
The Ancestral Edition contains the base game, the original soundtrack, and all DLC! Darkest Dungeon is a challenging gothic turn-based RPG about the psychological stresses of adventuring. Recruit, train, and lead a team of flawed heroes through twisted forests, forgotten warrens, ruined crypts, and beyond.
Frostpunk – (PC)
Frostpunk is a city-survival game where heat means life and every decision comes with a cost. MAKE THE LAW. Society is a group of people abiding the same rules and sharing similar beliefs. Establishing laws and customs will be an crucial factor shaping your society.
Gal*Gun 2 – (Switch, PS4)
Woo the girl of your dreams in a twisting, turning story full of surprises. With the aid of alluring angel Risu, become romantically entangled with girl-next-door Chiru and childhood sweetheart Nanako. Throw yourself into the middle of the action, and beware approaches from all angles!
The Swords Of Ditto – (PS4, PC)
The Swords of Ditto is a compact action RPG that creates a unique adventure for each new hero of legend in the relentless fight against the evil Mormo. Explore a delightful but dangerous overworld, brave menacing dungeons, and improve your hero in a charming village, during your quest to overcome the evil that plagues the island.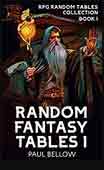 Fantasy RPG Random Tables Books
Make life as a Game Master easier....
If you play Dungeon & Dragons, Pathfinder, or other fantasy tabletop role-playing games, this
RPG random tables book
is full of encounters, NPCs, and more. I also have a complete adventure, including a dungeon map and room descriptions. Check out the
Dungeon Maps Described
series today!
Rick And Morty Simulator: Virtual Rick-Ality – (PS4, PC)
Rick and Morty: Virtual Rick-ality smashes together the absolute VR chaos of the award-winning Job Simulator with the ridiculous, all-out, take-no-prisoners comedy of Rick and Morty. This is is a virtual reality game compatible with HTC Vive and Oculus Rift developed by Owlchemy Labs and published by Adult Swim Games
April 25, 2018  Video Games
Only one game is set to be released on April 25th, but it's a good one with a unique new style of game play. Your character starts OP!
Sinner: Sacrifice for Redemption – (PC, PS4, Xbox One)
Sinner: Sacrifice for Redemption is a boss battler action-RPG. Face eight abhorrent bosses, the first seven each based on one of the deadly sins. Before each epic clash, you must sacrifice a stat and level down to enter combat. Each fight will be tougher than the last as you wage war against sin itself.
April 26, 2018  Video Games
If you love the Super Robot Wars series, you're going to be excited on April 26th as the next one launches to the world on PS4 and PS Vita.
Super Robot Wars X – (PS4, PS Vita)
"Super Robot Wars" is a simulation RPG with various types of robots crossing-over from different anime titles to fight against common enemies. More than 90 titles have been released in this series so far. You're still going to want to pick this one up for Playstation.
April 2018 TBA Video Games
Lastly, we have two games dropping this month (hopefully). We don't know the exact date yet, but keep your eyes open.
Do You Love DND & Tabletop Gaming?
Get access to
26+ RPG generators + our growing RPG content library.
Try my AI-powered
DND Backstory Generator
or my
Random Dungeon Generator
built with GPT-3 from OpenAI.
TBA BattleTech – (PC, Mac, Linux)
From original BattleTech/MechWarrior creator Jordan Weisman and the developers of the award-winning Shadowrun Returns series comes the next-generation of turn-based tactical 'Mech combat. The year is 3025 and the galaxy is trapped in a cycle of perpetual war, fought by noble houses with enormous, mechanized combat vehicles called BattleMechs.
Ys VIII: Lacrimosa of Dana – (PC)
Ys returns with a brand new adventure for the first time in 8 years! Adol awakens shipwrecked and stranded on a cursed island. There, he and the other shipwrecked passengers he rescues form a village to challenge fearsome beasts and mysterious ruins on the isolated island.
Fantasy RPG AI Generators with ChatGPT+
Make life as a Game Master easier....
If you play Dungeon & Dragons, Pathfinder, or other fantasy tabletop role-playing games, check out my
DND AI backstory generator
and other fine
AI RPG tools
at LitRPG Adventures Workshop today.