Looking for an RPG character generator online? You need to check out LitRPG Adventures if you haven't yet. I built a couple dozen advanced RPG generators using GPT-3 from OpenAI. Even better, members get access to a library of nearly 10,000 items, backstories, quests, and much more. It all started with making an RPG character generator. While there are quite a few free ones available, I wanted to leverage the power of one of the largest language model neural nets around currently. The result is LitRPG Adventures. First, let's look at some samples of content from the generators.
RPG Character Generator Online Samples
Here's just a few samples of what you can create with the LitRPG Adventures Workshop.
Wintropian
Male Dark Elf Cleric
STR 12 INT 17 WIS 12 DEX 13 CON 11 CHA 6
Born in Wintropia (Grabisco Kingdom)
Backstory:
Born to a family of thieves, Wintropian learned how to steal from a young age. To gain the respect of the other thieves he would steal from a rich man and give a portion of the money to a beggar, giving no hint of who he was. He spent most of his life stealing for his family. Finally, when he was 21, his father decided to put him to use.
He was put in charge of scouting before robbing a caravan. His father named the caravan the Dragon's Vault. The caravan that they robbed was being escorted by a group of guards from the city. Wintropian, infuriated that the guards had been able to catch up to them, killed the leaders of the group, which was later revealed to be a group of friends.
His father wished to avenge their deaths by killing the guards, but Wintropian told him of a better idea. He told his father of a group of merchants who were going to Lyra. There were a few guards escorting them, but Wintropian was sure that they could be killed without too much difficulty.
Wintropian was right. The guards were quickly taken out and the merchants were robbed. They succeeded in stealing enough money to live off of for the rest of their lives.
Personality:
Wintropian is sneaky and will trick most people into doing his dirty work for him. He is very mysterious and few people know of his whereabouts.
Appearance:
Wintropian is short and skinny. He has pearly white skin and wears all black clothes, including a hood to hide his face.
Start of Character:
Wintropian has traveled to the Grabisco Kingdom to become a powerful thief.
Xort
Male Half-Giant Paladin
STR 19 INT 8 WIS 18 DEX 10 CON 15 CHA 15
Born in Ironturm (Grabisco Kingdom)
Backstory:
Xort was born into a large family – the first of seven – and spent his youth living on a farm with his parents and siblings. His father would occasionally take him hunting and fishing, and after a few years the boy learned to hold his own against the wild animals of the woods.
When he came of age, he joined the King's Army, but it wasn't long before he got fed up with the rigid system and left. He subsequently became a mercenary and started touring the Grabisco Kingdom, adventuring and defending the weak, but all the while wondering what he was missing.
He once met a man on the road who liked to talk about religion and philosophy, and Xort couldn't help but listen. He learned a lot of his life's lessons from this stranger and decided to stay and become a priest.
However, it wasn't long before Xort wanted more. He felt he had fulfilled his purpose as a priest and began seeking out more adventure. He discovered a dungeon and took some time to explore it. He didn't make it far before he was ambushed by some drow.
Using his brute strength and his brute stupidity, Xort managed to fight his way to victory, killing all the drow. However, he also almost died in the process. Upon returning to town, he found the man who had preached to him before, who told him about paladins.
Xort's interest was piqued. He was soon off to the nearest temple where he entered the paladin training grounds. The days were long and tough, but Xort kept at it until he felt ready to go off on his own once again, attempting to make his way through the world in his own distinct way.
Personality:
Xort is very friendly when he's in a good mood, laughing, joking, and cheering his friends on. However, when he is in a bad mood, he is gruff, mean, and stubborn, preventing his friends from helping him.
He is not the most intelligent being in the world, but he knows that when in a fight, his strength will win the day. His one saving grace is that his strength makes up for his lack of intelligence.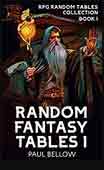 Fantasy RPG Random Tables Books
Make life as a Game Master easier....
If you play Dungeon & Dragons, Pathfinder, or other fantasy tabletop role-playing games, this
RPG random tables book
is full of encounters, NPCs, and more. I also have a complete adventure, including a dungeon map and room descriptions. Check out the
Dungeon Maps Described
series today!
Appearance:
Standing well over 7 feet tall, Xort can be intimidating just by walking into a room. On his back he carries an enormous great sword, which makes up for his somewhat lacking mental abilities. His muscular physique (muscles for days) is well-defined and his face is covered in scars.
Start of Character:
Xort has come to the kingdom of Grabisco to seek out new adventures. He plans to become a paladin but will probably get sidetracked along the way.
Fuhnhia Ygnawin
Male Wood Elf Shadow Knight
STR 14 INT 18 WIS 11 DEX 19 CON 4 CHA 15
Born in U.N.E.F. (Grabisco Kingdom)
Backstory:
Fuhnhia came from a family of devout worshipers of the deity, Don Wuhnneer. His mother and father were proud to raise their son in the way of their deity. This meant that he received a formal education and lived a peaceful and safe life in the temple. However, as children do, Fuhnhia grew restless and bored.
He wanted adventure. He wanted to fight for something important. His parents were against the idea, but one day, Fuhnhia ran away from home. He traveled across the kingdoms, looking for groups to join. He saw many things and met many people. One day, he came across a gang of thugs, and ended up getting beat up by them.
A priest of Don Wuhnneer helped him out and defeated the gang. The priest took Fuhnhia under his wing and taught him his ways. He taught Fuhnhia that violence was not the only way to achieve your goals. This changed Fuhnhia's perspective on life. He joined the priesthood of Don Wuhnneer, determined to spread the word of this deity.
Personality:
Fuhnhia is very patient with others. He is very understanding, but he goes about things in an odd way. He is very quiet, but when he does speak, people listen. He is very committed to his deity, Don Wuhnneer, and his fellow followers. He is very forgiving. He is very accepting of others, but he is also very skeptical, often questioning others' motives for doing certain things.
Appearance:
Fuhnhia has black hair with almond shaped eyes. He wears silver robes that are decorated with gold trimming. He carries a quarterstaff with him at all times. They are decorated with engravings of his deity's symbol.
Start of Character:
Fuhnhia wants to explore the world of Grabisco and spread the word of his deity, Don Wuhnneer, to all of the people. He is traveling with Violethra, a cleric of Don Wuhnneer, his brother, Mulgrane, a paladin of Don Wuhnneer, and their friends, Gaius, a mage of Don Wuhnneer, and Bofeld, a barbarian of Don Wuhnneer.
Use My RPG Character Generator Online
If you want to create your own character backstories, head over to LitRPG Adventures and join us today. We have both a simple and advanced character backstory generator available. With dozens of classes and dozens of races, there's hundreds of character combinations available. We also have name generators, magic item generators, city generators, and much more. Stop by today and use one of the most advanced RPG character generators online today!