Anime role playing boards are so old that they're almost a throwback at this point. As long as there has been an internet to speak of, these boards have existed.
Now, the problem isn't finding one of these boards. It's finding a board that's still alive and that is worth your time. Instead of digging through all the detritus out there, you can start with the cream of the crop.
Each of these boards has something to offer players. Each one has a unique flavor, and each can provide a unique home for certain gamers. Below are three of the best boards for anime RPG players.
LitRPG Forum
Full disclosure here – LitRPG isn't all about anime. There's a ton of crossover with anime fandoms, though, and the boards are nice. It's a compromise, but it's definitely one that's worth making.
The cool thing about the LitRPG forums is that there are multiple sections. There's a dedicated anime section, there are elements for RPG games, and it's about as friendly about an anime RPG forum as you'll ever find.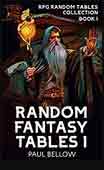 Fantasy RPG Random Tables Books
Make life as a Game Master easier....
If you play Dungeon & Dragons, Pathfinder, or other fantasy tabletop role-playing games, this
RPG random tables book
is full of encounters, NPCs, and more. I also have a complete adventure, including a dungeon map and room descriptions. Check out the
Dungeon Maps Described
series today!
The best part, of course, is that there are other attached forums here. It's nice to a dedicated gaming forum or other RPGs games available when you don't feel like anime.
AniRoleplay
One of the better known anime roleplay sites, this one is definitely more for roleplaying than just discussion of anime. It's set up very well, and it's very easy to find someone to play with if you're willing to put in a little bit of work.
There are a ton of different anime games, almost enough to be overwhelming. Thankfully, the search feature can get you hooked up with something fairly quickly.
This is probably the king of anime roleplay sites, so it's worth a look if you're interested in those games. Consider this the premiere anime RPG forum for your needs.
Sword Art Online Forums
This is a great forum for those who want a little more direction when looking for RPG games. This one is all about Sword Art Online, which gives you a fair idea of what all the anime games will be about. If you like SAO, it's easy to find a home here.
Do You Love DND & Tabletop Gaming?
Get access to
26+ RPG generators + our growing RPG content library.
Try my AI-powered
DND Backstory Generator
or my
Random Dungeon Generator
built with GPT-3 from OpenAI.
These boards are fairly old-school, which should suit many players. It takes a little while to feel fully accepted, but the community is fairly nice for a forum community. If you like SAO, this is probably the forum for you.
Anime Doesn't Have to Be Lonely!
If you are looking for a good anime gaming forum, the options above are great places to start. These are the best of the best – if you can't find something here, you're probably out of luck.
Remember, a huge part of participating in these forums is getting your writing out there. Don't be afraid of the quality of your writing. You'll get better in time.
If you want to role play in an anime universe, these sites will give you what you need. Once you're in the communities, you'll find a haven for your writing for years to come.