People often think of gamers as recluses who don't interact with other people much. But this stereotypical image couldn't be further from the truth for most people. Some play with their friends or meet people online that they can have fun with.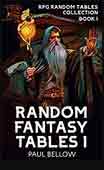 Fantasy RPG Random Tables Books
Make life as a Game Master easier....
If you play Dungeon & Dragons, Pathfinder, or other fantasy tabletop role-playing games, this
RPG random tables book
is full of encounters, NPCs, and more. I also have a complete adventure, including a dungeon map and room descriptions. Check out the
Dungeon Maps Described
series today!
However, there are some people who love to game but might struggle a little to meet people and make friends. If you feel like your gaming is more of a solo activity but you'd like to make it more social, try some of the following ideas to meet more people.
The Best Ways to Make Gaming More Social
Play Online
If you're not already playing online games, now could be the time to start. Some games are entirely based online, while others can have an offline mode and an online option. There are various ways you might find the right people to play with.
You can look for different Minecraft SMP servers to find the right people to play with if you're a fan of the game. You might already know people who play certain games who would be willing to join you on some sessions.
Playing online means you can play with everyone from your friends to people from around the world.
Use Social Media
Social media of all kinds can help you to make friends with people who have the same interests as you. You can use forums, social apps, and messaging to find new people and to talk about the things that you enjoy.
Everything from Reddit to Discord can offer ways for you to make new friends or stay connected with people you already know. If you're not already connected with people, you can usually find the right places to discuss your favorite games by searching on your chosen platform or asking people for recommendations.
Find Gaming Meetups
Of course, not all social gaming has to be online. You can meet people offline too, which can even give you an opportunity to play board games or other games in person. But the internet can still help you find ways to do this.
You can look for local meetups of people who love gaming so that you can plan to join them when it suits you. Or if there aren't any that suit you, you could also consider setting one up yourself and spreading the word to get people to join you.
Go to Events
Gaming events can be a great opportunity to meet new people or do something fun with friends. You can find things like gaming cons, tournaments, and other fun events that celebrate your favorite games.
You might find something that's local to you, or you could plan to go on a trip to an event that's a bit further away. Events can be a good place to meet people who you've met online, giving you a safe, public place to meet for the first time.
Get more social with your gaming using these methods that can allow you to meet people and make friends.