Looking for something new to play on the PC? We've got you covered with a list of the very best computer games for 2019 so far. Everyone has their favorite older title, but there's something about a fresh, new game that makes the heart go pitter-patter. Am I right? With that in mind, we've put together a list of the top PC games so far this year with a little something for all types of gamers. Whether you're into first person shooters, RPG, or strategy games, we've got you covered.
Latest Games for PC in 2019
Here's our rundown of the hottest new PC games released in 2019 so far.
We also take a look at some of the upcoming PC games in 2019 that are releasing later this year below. Keep reading if you want a new challenge.
Total War: Three Kingdoms
Total War: Three Kingdoms is a turn-based strategy real-time tactics video game developed by Creative Assembly and published by Sega. Set in the Three Kingdoms period, you control one of the game's twelve factions. Your goal is to eliminate the other factions, unify China and become its ultimate ruler. Easy, right? Think again. This game is huge and will give you hundreds of hours of gameplay.
With an 85 Metascore and a 8.7 user score on Metacritic currently, the game is receiving good reviews.
More than just a good Total War game. Its variety in play, riveting campaign mode and improved performance move it up to one of the best games in the RTS genre.

Daily Star May 27, 2019
Total War: Three Kingdoms uses excellent pacing and strong character mechanics to create a consistently exciting and challenging historical strategy campaign.

IGN May 16, 2019
Total War: Three Kingdoms is the best the series has been in a decade. By emphasising on characters and their relationships, each campaign feels like an epic narrative of friendship and betrayal.

Cultured Vultures May 30, 2019
Combining the strategy of a turn-based empire-builder with the action and adventure of stunning real-time battles, THREE KINGDOMS redefines the Total War series in ancient China. Good stuff!
A Plague Tale: Innocence
A Plague Tale: Innocence is an action-adventure stealth game developed by Asobo Studio and published by Focus Home Interactive.
So far, the game is receiving very good reviews across the internet with some hailing the storytelling aspect as top notch. The game currently has an 81 Metascore and an 8.8 user rating at Metacritic. Reviews elsewhere on the web are also very positive.
A Plague Tale: Innocence is all about surviving in an odious and decadent medieval Aquitaine, using your wits. The gorgeous art design and taut, realistic writing make for a heart-wrenching juxtaposition to its rat-infested underbelly and a journey that you'll not soon forget.

Ragequit.gr May 22, 2019
With a magnificent storyline replete with devious puzzles and gorgeous vistas, A Plague Tale: Innocence is as beautiful as it is disturbing. A survival stealth title at its heart, Asobo Studio's approach to the story of the bubonic plague is completely unique, and one I can't recommend highly enough.

GamingTrend May 14, 2019
A Plague Tale: Innocence is definitely among the gaming surprises of 2019, exceeding expectations in the best possible ways. With its gripping tale, charming characters and solid gameplay mechanics, the game is a must-have for those who like single-player games with a strong focus on story and character development. Even if the tale does not take in you, A Plague Tale: Innocence still offers a compelling third-person stealth experience that fans of the genre will surely appreciate.

Wccftech May 13, 2019
Blending action, adventure and stealth  into a single game isn't easy. Adding superb storytelling makes it even harder. A Plague Tale: Innocence, while dark, manages to succeed on many different levels. This is one you should check out if you like moody and emotional experiences when playing video games.
Far Cry New Dawn
Far Cry New Dawn is an action-adventure first-person shooter developed by Ubisoft Montreal and published by Ubisoft. The game is a spin-off of the Far Cry series and a narrative sequel to Far Cry 5. While not to everyone's liking, some people enjoy this game for what its attempt to recapture the magic of the franchise.
Far Cry New Dawn is getting average to low reviews across the internet with a 73 Metascore and a 3.1 user score at Metacritic. Here's what some critics have said about the game.
There's plenty of game here, and it's all been a joy. Far Cry 5 was one of the best games in the series, and yet New Dawn may have just eclipsed it with some fine-tuning and a brave new world to explore. I can hardly wait to see what's next from the series, and I hope it follows in the footsteps of The Father.

GameSpace Feb 14, 2019
New Dawn oscillates between wink-nod silliness and dead seriousness in a way that's disorienting and even unsettling at times, and I came away feeling the same as I did last time: Ubisoft needs to choose. It either needs to go full Blood Dragon or full Far Cry 2 realism again, but this uncomfortable gray area between earnest and flippant is (at least for me) unsustainable.

PCWorld Mar 6, 2019
The sequel to Far Cry 5 fails to add anything meaningful or fresh. Instead you get a forgettable story garnished with some half-baked crafting and a post-apocalyptic setting that never really comes to fruition. Thanks to the same open world action that we've come to expect from the series – a fluid mix between stealth and explosive combat-, you still get hours of fun with Far Cry: New Dawn, provided that you keep your expectations in check.

PC Games Feb 14, 2019
The story of Far Cry New Dawn is set seventeen years after the events of Far Cry 5. After the nuclear exchange known as "the Collapse" devastated the world, survivors attempt to rebuild the community in Hope County. Their efforts focus on Prosperity, a township built on the remains of John Seed's ranch.  This is where you come into the story. Check if out if you're a fan of the series, but if you're looking for something new and innovative, you may want to pass this one by.
Imperator: Rome
Imperator: Rome is getting mixed reviews, but this is likely due to the depth of the gameplay. This isn't something you're going to sit down and beat an hour later. Be prepared to spend hours building your empire in this turn-based strategy game of epic proportions. The game was developed by Paradox Development Studio and directed by Johan Andersson.
Imperator: Rome currently has a 79 Metascore and a 4.6 user rating, showing how divided some people are about this monumental strategy game. Here's a look at what some reviewers are saying.
A good game with a lot of depth & just what one would expect from Paradox. Play it through once or twice just for fun, then grab one of the strategy guides that will be popping up to more fully appreciate the mechanics.

Gaming Nexus Apr 25, 2019
Imperator: Rome has some rough edges and it's not quite up to par with the excellent games Paradox usually churns out, but at the same time, it is still a challenging and rewarding experience that's bound to keep you engaged for long stretches.

New Game Network May 20, 2019
Imperator: Rome is a massive game, yet one that falls markedly short in comparison to what we've gotten used to with other Paradox titles like Crusader Kings 2 or Europa Universalis 4. An outdated, lacking or outright broken UI hampers the experience dramatically, despite a beautifully gorgeous new campaign map and an awesome and innovative new trade system. Imperator tries to be a bit of both; a family and state-oriented game, but in its pursuit of this goal, it sadly becomes neither.

Gamer.no Apr 25, 2019
If you're a strategy gamer, you'll at least want to check this one out. Be prepared to spend some time learning the UI and rules, especially if you've not played games by Paradox before.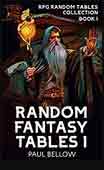 Fantasy RPG Random Tables Books
Make life as a Game Master easier....
If you play Dungeon & Dragons, Pathfinder, or other fantasy tabletop role-playing games, this
RPG random tables book
is full of encounters, NPCs, and more. I also have a complete adventure, including a dungeon map and room descriptions. Check out the
Dungeon Maps Described
or
Random Encounters
series today!
Anno 1800
Anno 1800 is a city building real-time strategy video game, developed by Blue Byte and published by Ubisoft. Fans of city builders like Sim City and Cities Skylines will love the attention to detail in this offering. While it shares similarities with other titles in the Anno franchise, this isn't just a new skin thrown onto an old game.
Anno 1800 has generally favorable reviews from critics and players alike. With an 81 Metascore and an 8.0 user rating at Metacritic, a lot of people have great things to say about this city simulator.
I can't recommend Anno 1800 enough. I was legitimately worried that Ubisoft might try to bring the entire franchise into the present, but I'm happy to say that my fears were unfounded. The game is a love letter to the old city-building games, while still managing to innovate and surprise even veteran players.

Softpedia May 6, 2019
Anno 1800 is a city-builder that caters to new players. It's gorgeous, has a campaign that's a huge tutorial, and players don't have to worry about sim aspects like traffic and power distribution. While there have been improvements to the Anno formula, some mechanics are simply not explained and the user interface is lacking for a game built so heavily around trade and economics. It's a good game for sure, but it needs some tweaks to make it fantastic.

USgamer Apr 17, 2019
If you're a fan of city building games like Sim City or have played other Anno games, you'll want to check this one out. There's a few guides to helping you get over the hump when beginning your city.
Rage 2
Rage 2 (a sequel to 2011's Rage) is a first-person shooter video game developed by Avalanche Studios in conjunction with id Software and published by Bethesda Softworks. Early reviews say the combat is above average while the story and characters could use some work. Fans of the first Rage will probably want to check it out, but it may be a miss for those looking for a more in depth story.
Rage 2 is getting mixed reviews due to the issues mentioned above. It currently has a 73 Metascore and 5.6 user score over at Metacritic. Here's a sample of some of the reviews around the web.
Rage 2 has some problems, but taken entirely as an FPS it's probably my favourite game of the year so far. The open world needs a bit more personality, there needs to be more actual story missions, and you could drown in the amount of upgrade options there are – but none of that matters once you get into combat. I spent over 20 hours in Rage 2 and every moment was a blast, with constantly exciting shooting that rivals Doom for thrills. And I'll be carrying on playing it after this review, too. If you're looking for a 100-hour open-world game, look away. If you want an FPS, look no further.

GameWatcher May 17, 2019
I played almost all of last weekend, and just stopped playing an hour ago, and I have no specific memory of any of it. Some driving, some shooting. I can hardly recall the boss battles except the ones that stood out as awful. Come to think of it, beyond general feelings that I liked it, I have no memories of Rage 1 either. And that's Rage 2 in a nutshell: good enough, not great, entirely forgettable.

Game Over Online May 24, 2019
Rage 2 delivers incredible action at a ridiculous pace which makes it easily one of the best FPS experiences I've had in years. Sadly the rest of the game falls flat in comparison, with uninspired open world design, clunky driving and a shallow story that can be finished in just a couple of hours.

PC Games May 13, 2019
If you're in the mood for some good combat and can overlook the shallow story and characters, Rage 2 might be for you. The game takes place 30 years after the original game, and feature a cast of both new and existing characters. In Rage 2, Players assume control of Walker and must survive in a world inhabited by dangerous mutants. After the world was hit by an asteroid, the majority of humankind died. While new settlements and factions emerged, a group called the Authority declared themselves as the new military power. On a hunt for the precious nano technology in order to consolidate their dictatorship, Walker makes an ideal target.
Upcoming PC Games 2019
Here's a quick list of some other new games releasing later in 2019.
The Outer Worlds
Doom Eternal
Psychonauts 2
Borderlands 3
Don't worry. We'll do articles on these and more as they arrive. If you're a gamer, please bookmark our site and visit often. You'll find a trove of content for gamers by a gamer.
Ding!
QUEST: Read Article Complete!
Loot!
5,943 Gold
906 Platinum
1 book chronicling the lineage of a very minor noble family (25 gp)
1 book chronicling the lineage of a very minor noble family (25 gp)
1 bound script for a tragic play (25 gp)
1 disguise kit (25 gp)
1 spyglass (1000 gp)
1 bound script for a tragic play (25 gp)
3 black sapphire worth 5000 gp each
carved bone bird cage worth 250gp
onyx set of animal figurines worth 250gp
This Demon chain mail gleams black and wicked in the light, with a prominent decoration of a leering face, and floats on water, granting Advantage on checks to swim. It was once owned by a hero of renown; it demands to be attuned when first used, and will not allow you to attune to anything else afterwards.
Hoard total: 31,625.00 gp
Congratulations! Continue your reading adventure below!
Do You Love D&D Books?
Get a FREE LitRPG Novel Today!
Looking for a full-length LitRPG novel to read? You can get a free copy of Roguelike right away! Click here for more information on this great LitRPG adventure. Fans of Dungeon Crawl Stone Soup, Nethack, and other roguelike games will enjoy this book!