One of the major things that has stopped past players from embracing MMOs has been monthly fees. There's something that just feels wrong about paying sixty dollars for a game and then having to pay a fee every month to keep playing. Fortunately, that model isn't all that common in the MMO space any longer.
Today, subscriptions have largely been done away with in favor of microtransactions. Some of the best fantasy MMOs of 2017 no longer require a player to pay every month. Some of these games are totally free to play, while others require an initial purpose. No matter the case, though, players never have to pay a dime once they've installed the game.
TERA Rising
One of the best moves TERA ever made was to drop its subscriptions. When paying every month, the game was a beautiful but largely empty experience. Without its monthly fee, though, it's become something special in the free to play world.
TERA is best known for being gorgeous and it hasn't really lost a step since it was released. Now, it's also known for being an incredibly deep free game. It's not necessarily the best MMO that's ever been released, but it's become a fantastic free game that players should check out.
ArcheAge
ArcheAge bills itself as a fantasy MMO sandbox, and it truly offers players a great deal of choice. It's a Korean MMO that's got a few years on it, but the free to play elements allow players to experience it without worrying about cost.
ArcheAge is another game that's best known for its looks. Beneath the gloss, though, is a surprisingly deep grind. It's got some of the best and worst features present from other Korean MMOs, but it builds on them with a very dedicated community. This is one game that makes the free to play experience fun.
Guild Wars 2
Guild Wars 2 is perhaps the gold standard in the pay and play MMO market. Players are still expected to buy the initial game, which is available on physical disk as well as in a digital form. Once that's done though, spending money stops – the only microtransactions in this game revolve around purely cosmetic items. The major goal of the game, it seems, is just to provide a great game play experience.
Built on the lore of the first game, Guild Wars 2 is a fully featured game. The combat is deep and the story is fantastic. It's a great example of how to do free well.
Age of Conan: Unchained
This is another game that is built on the bones of a moderately successful paid MMO. Players who played Age of Conan will find that most of the base game remains, albeit with a slew of new improvements that help the game to keep up with more modern MMOs. It's a great example of how adapting a game to free to play can breathe new life into a game.
Beyond the micro-transactions, players will find all the things that made Age of Conan so much fun in its first iteration. It's a remarkably grown-up and gritty MMO, one that occupies a very different space in the fantasy world. It's definitely a game that is very much worth the time of players.
4Story
Sometimes, the best thing a game can do is to copy a winner.
4Story is absolutely a clone of World of Warcraft, at least in terms of art. It's not the first game to do this, but it's likely one of the more successful. Without a monthly fee, though, it brings the art style to players who couldn't otherwise afford to play.
It is heavy on the micro-transactions, though, so players who really want to stay competitive in PvP will eventually need to open their wallets.
Dungeons & Dragons Online: Eberron Unlimited
This long-running game is still going, now in a totally free-to-play model. Dungeons & Dragons Online now embraces not only the Eberron setting but also a good deal of Forgotten Realms content, making the game far more memorable for many players of Dungeons and Dragons.
The game is entirely free to download, though players can expect some microtransactions within the game. This isn't necessarily a downside, though – you still get an experience that's built on the traditional MMO that was released over a decade ago. This is definitely one of the best Dungeons and Dragons experiences ever released and well worth the time of players.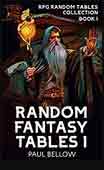 Fantasy RPG Random Tables Books
Make life as a Game Master easier....
If you play Dungeon & Dragons, Pathfinder, or other fantasy tabletop role-playing games, this
RPG random tables book
is full of encounters, NPCs, and more. I also have a complete adventure, including a dungeon map and room descriptions. Check out the
Dungeon Maps Described
series today!
EverQuest II
There's no name in the MMO space that's got more history than EverQuest. While the sequel never picked up quite as much steam as the beloved original, you have to give it points for longevity. The game has made a successful transition into a free to play model, one that has helped it to stay alive and competitive for far longer than many players had imagined.
EverQuest II still has everything players love about EverQuest. With the cancellation of the newest game in the series, it is also likely the last chance many players will have to embrace the series. If you're looking for a slice of MMO history that won't cost you money, this is the game at which you should look.
Talisman Online
Talisman Online boils down a lot of what makes MMOs complicated and simplifies them for new players. It takes a lot from the playbooks of more popular games, but it does so in a manner that makes for a unique experience. It's not the most original game in the world, but it is still fun.
This is a game that rewards players who are willing to grind. There's not a lot of customization here, but there are a lot of enemies. If you enjoy leveling up for the sake of leveling, this may be a game for you.
Villagers and Heroes
Many games claim to be MMOs on mobile platforms, but Villagers and Heroes is one of the few games that actually delivers on that promise. It's a fully-featured roleplaying game, albeit with some of the restrictions you'd expect on a mobile platform. That said, it's a great deal of fun.
You can even play Villagers and Heroes on Facebook, making it one of the few social MMOs to actually live up to the name. There are microtransactions in this game, but they aren't necessary. If you put in the work, you can find a good game here.
The Lord of the Rings Online
Lord of the Rings Online was one of the first prominent games to make the switch from a subscription model to a free to play model. While some might see some of its free to play systems as indicative of that early switch, it's hard to argue against how successful the transition has occurred.
The game places players in a Middle Earth based on the books rather than the movies and allows players to interact with some of the major players of Tolkien's world. The game has moved along the plot of the novels at a good clip and is the gold standard in recreating the beloved world of the books.
Your Fave Fantasy MMO?
You don't have to pay to find a great fantasy MMO in 2017. If you look at some of the great games that have transitioned to free to play, you'll find a number of winners. The fantasy market is fairly saturated with good MMOs now, so it's likely that there's something out there to fulfill your needs. Now that free to play has become to rule of the day, it will be easier than ever for players to enjoy massively multiplayer worlds. Be sure to stop by the retro LitRPG Forum for more MMORPG news and much, much more.