Massively Multiplayer RPGs may have started with fantasy settings, but the concept has always belonged to science fiction. After all, there are plenty of stories that essentially revolve around sci-fi MMOs, and it's only natural that gamers would want to participate in those realities. These are the games that the genre was meant for, for better or for worse.
It's strange, then, that so many of these games game and went quickly. Gamers just weren't interested in paying for their sci-fi fix every month. Fortunately, going free to play helped save the genre. Below are some of the best free sci-fi MMOs of 2017. We also have yet another mention of our new LitRPG Forum, a retro place for all things geek and gaming.
Anarchy Online
Anarchy Online isn't the first MMO, but it's the first MMO to have a sci-fi setting. Released back in 2001, it has over a decade on most of the games listed here. It's dated and you can tell the game is showing its age, but that doesn't mean it's worth playing.
Anarchy Online is totally free, so long as you are willing to look at in-game ads. These ads gave the game a new life, and they're largely why the game keeps running. The player base isn't nearly as big as it used to be and there's always talk of a shut down, but this is one game that looks like it will keep going for years to come.
Black Gold Online
Black Gold Online is a steampunk/fantasy MMO that really seeks to push the bounds of free to play combat. It allows for truly massive combat and has a strong focus on riding what the game terms as the vehicles of destruction.
This game is something you might not see in the traditional MMO landscape, and it benefits from that. The two factions are actually quite different from one another and it's fairly easy to feel loyal to one or another. While not perfect, this is a great game for steampunk fans.
Defiance
Defiance is so much better than it has any right to be. A game developed to run concurrently with a show on the SyFy network, there have been times when it seemed like the game was little more than an advertising engine. Fortunately, the game has outlasted its TV counterpart and grown into something special on its own.
While Defiance might not be the most advanced game out there, it's got one of the most fleshed-out worlds. If you enjoyed the show, this is your best chance to play around in the universe. If you never saw the show, though, you'll still get a good game play experience.
Fallen Earth
Fallen Earth is an incredibly ambitious game. Built on a real map of the Grand Canyon, it pushes players into a hybrid of RPG and FPS combat almost from the first moment. It has a very deep crafting system and a lot of interesting back story. It's actually quite surprising that this game never took a spin on the traditional MMO funding roulette.
This game plays and feels like something special. There's some lovely notes of Mad Max in the game, and it's a great play for fans of post-apocalyptic movies. If you're looking for a fun survival experience, you can find it here.
Infestation World
Formerly known as The War Z, this game has a storied history. It's one of the primary movers in the arena/survival MMO market, and its inclusion of zombies definitely earns its space in the sci-fi realm.
This game is a primarily competitive experience, which does put something of a damper on the usual social aspects of an MMO. It is free to play, though, and you can spend enough time developing your relationships with other players that those aspects don't always matter. If you're willing to put in some work, you can become very good at this game without ever spending a dime.
Marvel Heroes
If you've ever wanted to play a Marvel-flavored Diablo clone, this is the game for you. You won't be making your own character, but you will be playing as one of the heroes of the Marvel Universe. There's a lot of content in this game that you need to pay for, but the base game is totally free.
Marvel Heroes has quietly become one of the real successes in the MMO space. It doesn't charge for anything that impacts game play and players are given plenty of free options. If you're looking for a good entry point into MMOs, this is perhaps the best place to start.
Planet Calypso
Planet Calypso is best known as the MMO with a real money economy. It's possible for players to make a living playing this game, and it's just as likely that they will go broke. It is by far the most sci-fi concept of any game on the market, and that doesn't even count playing the game.
The game is well-built, but it's the economy that's really the selling point here. If you want to take a look into the future, the odds are that you'll see it here. Don't fret, though – you really can play if you don't want to keep paying.
Scarlet Blade
Scarlet Blade's official servers have been shut down, but it's still kicking around on private servers. The game is a little on the mature side for most, and it's definitely not something you'd play with people around. There are some interesting mechanics, though, and it's hard to say that the game didn't polish its design.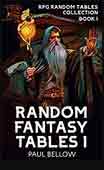 Fantasy RPG Random Tables Books
Make life as a Game Master easier....
If you play Dungeon & Dragons, Pathfinder, or other fantasy tabletop role-playing games, this
RPG random tables book
is full of encounters, NPCs, and more. I also have a complete adventure, including a dungeon map and room descriptions. Check out the
Dungeon Maps Described
series today!
One of the great things about sci-fi is that it pushes the envelope. It's tough to say if Scarlet Blade pushed it in the right way, but there was definitely envelope pushing here. Don't be surprised to find this game making a comeback in the near future.
Star Trek Online
Star Trek Online seems like one of the most inevitable MMOs ever made. It's certainly one of the most lovingly crafted, with tons of references to Star Trek's many incarnations across the years. It features a tremendously deep character creation system and a storyline that actually involves members of the Star Trek casts throughout the years.
While there's a strong free to play element here, you can experience everything the game has to offer without paying for anything. There are many ways for players to get some of the more famous ships without paying, as well as plenty of events that unlock top-tier upgrades.
Star Wars: The Old Republic
The Old Republic is the MMO with the biggest pedigree behind it. A direct sequel to the Knights of the Old Republic games, it was developed with great fanfare by BioWare. When the game proved not to be the Warcraft-killer that was promised, it transitioned into a free to play game.
The free to play aspects of the game have been balanced over the last few years, resulting in a fully-free game that still locks some puzzling aspects behind a pay wall. If you're willing to spend five to ten dollars, though, you can unlock everything you need to enjoy the game.
The Skies
The Skies is still Early Access on Steam, but it's incredibly ambitious. It's likely to be as close to a Fallout MMORGP as players will see for some time, and its current state leaves very little but room for improvement. It's a got the bones of a good game, and its free to play nature makes it worth the gamble.
The Skies is all about character freedom in a post-apocalyptic setting. It has a good deal of room for those who want to go it alone as well as those who want to join groups. While there are still a number of bugs to be worked out, it's hoped that time will turn this into a great game.
Even More Sci-Fi MMO Games?
Sci-fi MMOs are still being released, all of which have their day in the sun. There still hasn't been an MMO in this space that competes with the bigger names in the industry, but all the games above have been tremendously successful in their own ways.
Whether you're looking for a game that takes you to a familiar world or one that lets you explore new territory, these games will be there for you. Most of these games are designed to let you experience them fully without requiring you to spend a dime.
Come on over to the retro LitRPG Forum to talk about gaming and a whole lot more!