There is no instruction booklet when it comes to turning a board game into a successful product. Like any business, it requires a certain amount of creativity and intuition.
However, there are some tips that can help to increase your chances of launching a successful board game. Below are just some of the things you need and how to achieve them.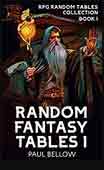 Fantasy RPG Random Tables Books
Make life as a Game Master easier....
If you play Dungeon & Dragons, Pathfinder, or other fantasy tabletop role-playing games, this
RPG random tables book
is full of encounters, NPCs, and more. I also have a complete adventure, including a dungeon map and room descriptions. Check out the
Dungeon Maps Described
series today!
What You Need To Launch A Successful Board Game
A great idea
At the core of every great board game is a fun and inventive idea. If you're eager to launch a board game, it's likely that you already have an idea in mind. You may have even created your own DIY board along with cards and player tokens.
To make sure that your idea is successful, you'll need to first test it and then tweak it in order to perfect it. This involves testing it on friends and family and possibly even strangers.
Collect feedback during this testing stage and use this to make any necessary changes until you are 100% happy with your board game.
Some form of funding
Manufacturing and marketing your board game could require spending a lot of money. You'll therefore need to find a way of funding your board game. While saving up money is an option, most people will either borrow money or raise money via investors. Business loans are the most popular option and can be taken out from a bank or private lender.
If you would prefer to avoid taking on debts, raising money via investors is your best option – you could try launching a Kickstarter for board games, or you could look for a VC firm that is willing to invest in toys or entertainment products. Most board games cost about $18,000 to $20,000 to successfully launch, although you can do it much cheaper than this.
By creating a business plan and outlining every individual cost, you can work out exactly how much you need to raise (a breakdown of costs could also be important for gaining the trust of lenders and investors). 
A manufacturer
There are many manufacturers around the world that are able to help you manufacture your board game. First, you may want to hire the help of a professional graphic designer to create a final design of your board and possibly help design cards and tokens. You may already have created some DIY versions, but a designer may be required to polish them and make them look professional.
Once you have a final design, you can then approach factories. Enquire about the types of materials they are able to use, get a quote and consider ordering a prototype. You can also identify the best manufacturer by looking into games they've already manufactured and buying them to test out their quality. This post offers more information about choosing a board game manufacturer.
A marketing strategy
A successful marketing strategy will help you to find customers for your board game. You should start by creating a website and social media pages for your board game. You may then want to launch a PR campaign to gain some publicity – this could include contacting board game blogs, board game vlogs and board game podcasts for board game reviews and features.
You can also create your own adverts for your board game, which could include video demos and video tutorials as well as static ads. Investing in some SEO could also be worthwhile. Don't forget to also network by joining board game groups, talking to other board game producers and possibly even taking your board game to conventions.