If you're prepping to celebrate your birthday or simply want an excuse to hang out with your friends, you can't go wrong with hosting a gaming party. While playing online with your friends sometimes feels as though you're all in the same room – there's nothing better than coming together and playing in person!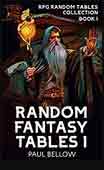 Fantasy RPG Random Tables Books
Make life as a Game Master easier....
If you play Dungeon & Dragons, Pathfinder, or other fantasy tabletop role-playing games, this
RPG random tables book
is full of encounters, NPCs, and more. I also have a complete adventure, including a dungeon map and room descriptions. Check out the
Dungeon Maps Described
series today!
With that in mind, here are some top tips that you can use to host a successful gaming party that your guests with LOVE.
Spruce up your gaming setup.
Any gamer worth their salt knows the importance of creating the best gaming setup. For example, if you're going to be playing for a while, it's crucial that you're as comfortable as possible, as this can help you battle gaming fatigue and reduce gaming-related injuries such as neck or muscle strains. Your gaming setup also contributes to the overall gaming experience by altering the atmosphere – for example, the right lighting can heighten tension. While surround-sound speakers can also heighten immersion.
However, while you may have your solo setup down to a T, you may need to spruce up the space in order to accommodate multiple players. For example, you might want to invest in a series of bean bags or comfortable chairs so that everyone can kick back and relax while playing. (After all, nobody really wants to sit on the floor for hours).
Choose a range of games.
The next step toward planning a successful gaming night is by choosing a selection of games to play. For example, you could browse some of the best game torrenting sites to find a range of games that you will all enjoy – such as the latest release from your favorite franchise. Alternatively, you could look into the latest RPG releases, such as a new Dungeons & Dragons board game, depending on what kind of party you are looking for. 
Send out invites.
Sending out invites ahead of time is essential if you want to avoid no-shows. This is due to the simple fact that it gives your guests a chance to add the party to their schedule and plan accordingly. You don't need to send out paper invites in the post – a simple Facebook event or message will usually do the trick.
Have snacks on hand.
Everyone enjoys snacking when gaming, which means it's even more vital that you have access to the good stuff when gaming. However, this doesn't mean that you have to spend the entire night in the kitchen, missing out on necessary gaming time. For example, you could order in and have food delivered from your favorite takeout if you're really looking to take it easy.
Alternatively, you could try out some no-mess, no-fuss snacks that are sure to impress your guests, such as crisps, candy, and nuts. Alternatively, you could try your hand at themed snacks, such as D&D Themed food that would be served in a tavern or similar D&D location, such as mouthwatering fireball cupcakes.
You should also pay close attention to your drinks menu for the evening. For example, many gamers like to focus on drinks that will give them heightened energy when playing. However, you might also want to pull together some themed cocktails if you're really looking to impress. Alternatively, you could challenge each of your guests to make their own cocktail, taking it in turns to make something special to share amongst the group. This could save you a lot of stress.
Play fair.
Depending on how many people you invite to your party, you must make sure that everyone gets the same amount of console-time, and that some of your guests aren't spending the entire night on the sidelines. There are various ways you could go about doing this – for example; if you have multiple consoles or games, you could have multiple sessions running at once. Alternatively, you could use a timer that lets you know when it's time to hand over the control.
Make it competitive.
Playing with friends doesn't need to be competitive, but making it so could be a great way to make the night a little more exciting. For example, you could up the stakes by offering out a prize to the player with the highest score (or the best performing player in non-scored games). Remember, it doesn't necessarily have to be a big or expensive prize, it could be something simple. For example, you might give them the chance to choose which game you play next or let them have the first dib over snacks.