If you want to know how to start to play a Dungeons and Dragons game as a player, you've come to the right place. In this article, I'll give you the basics on how to get your first roleplaying adventure underway, and a few tips for a good, smooth start.
Sometimes, jumping into a Dungeons and Dragons campaign can be a daunting task. Don't worry, though. By following these simple steps, you'll be delving dungeons and slaying dragons in no time at all.
Step One: Learn the Rules
Before you start a DnD game, you should learn the rules. While many DM's will be happy to provide a brief overview of their world's rules, it doesn't hurt to know what's going on. This way, you can ask questions and learn about the ins and outs of the world that the DM has created. This doesn't have to be a difficult task. You'll want to start with the Player's Handbook and look over the races and classes of the world.
This will give you an idea of what the possible characters choices are. You'll want to make sure you can play what you want to play. If you don't, you might need to choose a different character. It's all part of the fun. It's better to find out now than when you're in the middle of the game and the party doesn't have the time to adjust.
Step Two: Meet the DM and Other Players
If you're new to Dungeons and Dragons, you'll want to get to know the other players and the DM that you'll be playing with. You can do this by getting together for a session or two before the campaign actually begins. Just as with getting to know the rules, you'll want to get to know your fellow adventurers. You can do this at a local gaming store, at a convention, or by using the Internet. There are a number of online chat rooms and forums available to help you get to know people better. Just make sure the people you choose to game with are the type of people you can work with. After all, you'll be playing with them for quite some time.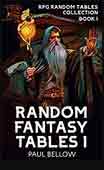 Fantasy RPG Random Tables Books
Make life as a Game Master easier....
If you play Dungeon & Dragons, Pathfinder, or other fantasy tabletop role-playing games, this
RPG random tables book
is full of encounters, NPCs, and more. I also have a complete adventure, including a dungeon map and room descriptions. Check out the
Dungeon Maps Described
series today!
Step Three: Choose a Character
Once you've gotten the rules down and the party is ready to start, it's time to choose a character. The first thing you'll want to do is pick a class. Some DMs will allow you to start with a pre-made character that they have worked out in advance, but many DMs prefer to have you create your own character. There are three main things to consider when choosing your class. First, you'll need to think about the type of character you want to be. Do you want to be a rogue or a warrior? A cleric or a magic user? (A good D&D backstory generator can do wonders here!)
You'll also want to think about the game world you'll be playing in. These worlds can vary quite a lot, but you'll want to choose a character that fits well with the game world. The last thing you'll want to do is think about the party that you'll be playing with. You'll want to play a character that will work well with your fellow adventurers. If you want to play a character that is a bit of a loner, that's okay. Just keep in mind that you'll be playing with that character for quite some time and that there will be times when it might be more helpful to have someone else along.
Step Four: Choose a Name
In Dungeons and Dragons, you'll have a lot of freedom when it comes to character creation. One of the more important decisions you'll make is your character's name. While it's not absolutely necessary to make a unique name, it is a nice touch. If you've done some character building and have a cool character concept, then it might be a good idea to name your character after your concept. This way, it's easy to remember who your character is and your other players can get a better idea of what your character is like. If you want some ideas, check out aRandomNameGenerator!
Step Five: Start the Adventure
Once you've gotten all of these decisions out of the way, it's time to start the adventure! The beginning of your roleplaying adventure is the beginning of your character's story. You'll be telling that story through your actions in the game. No matter what choices you make, there are certain things that must be included in your story. Â These things are your character's motivations and goals. These can be relationships with people, achieving a certain goal, or anything else the DM comes up with.
Step Six: Respect Your DM
Do You Love DND & Tabletop Gaming?
Get access to
26+ RPG generators + our growing RPG content library.
Try my AI-powered
DND Backstory Generator
or my
Random Dungeon Generator
built with GPT-3 from OpenAI.
This is an important part of how to best start playing D&D. If you've found a good DM, you want to treat them with respect and gratitude. This will make it easier to work with you on the game and keep the game fun. A good DM will often run more than one game at a time. This means that they have to juggle different groups of players. One of the more important things you can do is show up on time. If you're late, not only will it disrupt the game and drive your DM crazy, it will cause the other players to lose their patience and start to lose interest in the game.
You'll also need to be very patient with the DM. If you have a question, you'll want to ask it, but wait for your turn. Everyone in the party has a chance to ask questions, and you don't want to interrupt their chance to speak. If you have a problem with the rules or with the direction the DM is taking the story, you'll need to discuss it with your DM. Just try to do it in a way that isn't rude or disruptive to the whole party. If you're a good player, a good DM will want to keep you around. If you're a bad player, a DM will want to get rid of you as soon as possible.
Step Seven: Be Creative
One of the best things about Dungeons and Dragons is that it gives you a chance to be somebody you never have been before. It might be somebody entirely new, somebody you know in real life, or somebody you've only imagined. Whatever you choose, you'll have a great time being creative with it. You'll get to choose your character's personality, their looks, their attitude, their movements, and everything else you need to make your character come alive.
Step Eight: Have Fun!
The best thing about Dungeons and Dragons is that it's all about having fun. You'll have a great time being creative, making friends, and getting involved in adventures you never thought you'd have the chance to participate in. If you play your cards right, you'll have a great time for months or even years to come. One of the best things about tabletop gaming is all the friends you meet along the way. You'll be able to meet new friends and hang out with old friends all at the same time. It's a great way to spend your time!
How to Start a Dungeons and Dragons Game: Accomplished
You should now have a better idea of how to start a Dungeons and Dragons Campaign as a player. You can now go out there and enjoy playing one of the most popular roleplaying games of all time. Who knows? Maybe you'll even be inspired to run your own game one day. (We'll have another article on that soon!) So follow these steps, make some new friends, and have lots of fun!