Greetings! If you have a Dungeons & Dragons fan on your shopping list this year, just know that metal dice sets make some of the best gifts for D&D players. Here I will look at best metal dice for D&D fans and give you answers to the questions:
Strap in and read on as we consider the best metal dice for a Dungeons & Dragons gaming fan.
Best Metal Dice for Dungeons & Dragons Fans
Here's my selection of the absolute best metal dice for DND fans be they players or dungeons masters. At the table, these dice rule.
DNDND Metal Dice Set
Verdict: Quality Metal Dice
With a name like DNDND, how can you resist? Metal dice are an alternative to the plastic or wood dice. A company by the name of DNDND sells its uniquely designed metal dice on amazon. It comes in a set of 7 in various colors.
These metal dice are an attractive accessory for any DND (Dungeons and Dragons) player or DM. The weight and feel are solid, and they look absolutely amazing. When the light hits them, you can almost see the room light up from the reflection.
For the price, these dice are incredible. I can't imagine trying to buy an entire set of metal dice anywhere else for what these cost. These DNDND metal dice sets are an amazing deal for anyone who loves tabletop games – and they make a great gift for gamers.
---
Haxtec Antique Iron Metal Dice Set
Verdict: Budget Value Metal Dice
These impressive metal dice are great for tabletop games. With their simple, yet stylish design, they are great additions to any RPG collection. The pack of 7 dice comes with a leather dice bag. You get a standard set with 1d4, 1d6, 1d8, 1d10, 1d10 %, 1d12, and 1d20.
I like the look of these die, but I don't like the feel of them. Maybe it's just me. You should have a rolling tray or something to roll on, so you don't damage either the dice or an expensive table! (No, I'm not saying that from person experience!)
The dice are good quality and they look pretty much exactly how they do in the photos. The green and copper look really nice together. I've seen metal dice that are more expensive than these and they don't look nearly as nice.
---
HEIMDALLR Metal DND Dice Set
Verdict: Shiny + Budget Metal Dice
Shiny! That's the one word to describe these dice. They look awesome. The pictures online really don't show how great these dice look. The burnished bronze are darker than I imagined, but still look great. The mithril and glimmering gold have a nice shine to them.
The sparkle from the mithril is almost a little too much. Still, the dice are very nice. You get the standard seven dice – i.,e. 1d4, 1d6, 1d8, 1d10, 1d10%, 1d12, and 1d20. You get a velvet drawstring bag, so you don't have to find one from Crown Royal.
The dice are heavy, of course, but I love the way they look the most. If you have a Dungeons & Dragons fan on your shopping list this year, these are a great choice. Overall, you're getting quality and price with these dice.
---
Cusdie Metal Dice Set
Verdict: Unique Metal Dice
The unique pinwheel design of these metal dice sets makes them look like "Hot Wheels". The D4, D6, D8, D10, D%, D12, and D20 are made of zinc alloy and have a weight of 170g/5.9oz. The special design makes these metal dice sets more well-balanced than normal ones.
You also get a decent leather bag to store the metal dice. A big larger than normal metal dice for DND, these dice are perfect for tabletop RPG games such as Dungeons and Dragons, Pathfinder, MERPs, and more. If you're a gamer or are buying a gift for a gamer, these metal dice are a great choice.
The only thing I don't like about these dice is the paint on the numbers. It's not the greatest, but they still look cool. They're a bit expensive, but you get what you pay for. If you're looking for a gift for a gamer, these dice are a great choice.
---
ARUOHHA DND Dice Metal
Verdict: Cool Metal Dice
These stunning metal D&D dice are crafted with the high quality zinc alloy with a weight of 150g/5.29Oz. Designed with dragonhide faces, the edges are decorated with iron chains and vivid colors.
They are perfectly suitable for Dungeons and Dragons, and other tabletop RPGs, such as Pathfinder, etc. If you're looking for cool metal dice, these are a great choice. I love the way they feel in my hands.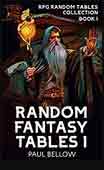 Fantasy RPG Random Tables Books
Make life as a Game Master easier....
If you play Dungeon & Dragons, Pathfinder, or other fantasy tabletop role-playing games, this
RPG random tables book
is full of encounters, NPCs, and more. I also have a complete adventure, including a dungeon map and room descriptions. Check out the
Dungeon Maps Described
series today!
I love the numbers too. They're done really well. While not the cheapest metal dice for DND, they're a great value for the quality. Overall, I would recommend these to anyone looking for a great metal dice set.
---
GIUADKXD Metal DND Dice Set
Verdict: Weird Metal Dice
I love the weirdness of these metal DND dice. I have always loved d20s and the one in this set is no exception. The dice are beautiful and they are quite heavy. I love that they come in a leather pouch that is easy to open and close. I have no complaints about them, it is what I expected and more.
The one thing I don't like is that the numbers a bit hard to read unless you're close to them. Still, they're gorgeous and I would definitely recommend them to anyone looking for metal DND dice. Whether you're buying them for yourself or as a gift for a gamer friend, they're a great choice.
Overall, I think it's well worth the price to have these beautiful metal dice. They're a lot of fun to use as well. If you're a gamer or buying a gift for a gamer, you can't go wrong with these beautiful metal dice.
---
Metal Dice FAQ
Here's some frequently asked questions and answers about metal dice.
What are metal dice?
Metal dice are, as the name suggests, dice which are made of metal. These dice are usually used for D&D or tabletop gaming and come in sets of 7 with one d4, one d6, one d8, one d10, one d10 percentile, one d12, and one d20.
What are the benefits of metal dice?
There are a number of benefits associated with metal dice, like the fact that you can purchase a set for a relatively low price and then reuse them for as many D&D games as you would like. They also look really cool on the table.
What metal dice should I consider?
If you want to find the best metal dice for your needs, then there are a few different things to consider. First, you need to decide if you are looking for dice that are more durable or those that look the best. The truth is that both types of dice are really cool, but they are typically a bit different.
Do metal DND dice make good gifts?
Absolutely! A good set of metal D&D dice make great gifts for any D&D fan. Not only are these dice nice to look at, but they also provide an advantage to players over other players that are using wood or plastic dice. This means that they are a bit of a status symbol and are great gifts.
Metal Dice for Gamers: Final Thoughts
Bottom line? Metal dice sets are great gifts for D&D fans and can be used time and time again.