Is a Dungeons & Dragons sixth edition coming soon? Here's what some fans want want out of the latest version.
If you're waiting for D&D 6th edition, you're not alone. While Wizards of the Coast has not announced that it would be working on a new edition of Dungeons & Dragons, many people are anxiously waiting news on a new edition of the world's favorite tabletop RPG. Some people say that a sixth edition D&D isn't needed, but many of the game's fans are begging for some sort of change. Below are six different areas that we think can improve in a sixth edition of Dungeons & Dragons.
1) Don't Change the Core Mechanic
What fans want out of the new edition is the same thing that they want out of all D&D editions: the same basic game that they've always loved. That means that the core mechanic of the game – the d20 roll – should remain. The d20 system has been used in D&D for over 30 years, and it's a tried and true system. It's simple, easy to understand, and fits well with the types of adventures that people have been playing for all of these years.
The d20 system also allows for flexibility in the game. There are many different ways to use the system, and it can be used in so many different ways. It doesn't matter if you want to run a game with a big focus on combat, or if you want to run a game that focuses on roleplaying and exploration. The d20 system can be molded to fit your needs.
2) Keep the Classes, But Change Them
Fans of D&D have been playing for many years, and many of them have been playing since the very beginning. Some of these fans have played every edition of the game, and they've grown very attached to the various classes that they've used over the years. Some of the classes, like the magic-user, have been around since the beginning, and they've seen many different changes over the years. The fighter has also seen many changes, but not as many as the magic-user.
Fans want to keep the classes that they love, but they would also like to see some changes. For example, there is some talk that the fighter needs to be changed. There's nothing wrong with the fighter as it is now; it is useful in most games, but its usefulness can be increased. It would be nice to see the fighter gain some sort of special ability.
The ranger, paladin, and monk classes are also in need of some changes. These classes are also useful, but they could use some sort of improvement.
3) Introduce New Classes
The core of D&D has remained the same for many years, with the classes remaining the same. While some fans would like to see the classes remain exactly as they are, most would like to see some new classes added to the game. The new classes could be something as simple as a new class as a variant of an existing class, or it could be a brand-new class.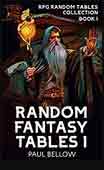 Fantasy RPG Random Tables Books
Make life as a Game Master easier....
If you play Dungeon & Dragons, Pathfinder, or other fantasy tabletop role-playing games, this
RPG random tables book
is full of encounters, NPCs, and more. I also have a complete adventure, including a dungeon map and room descriptions. Check out the
Dungeon Maps Described
series today!
Some of the new classes that fans have been asking for include the avenger, the tactician, and the thaumaturge. It would be nice to see a new class of martial characters, like the avenger of warriors. It would also be cool to see a new class of spellcasting characters, like the thaumaturge of wizards. It would also be great to see a new class of priest characters, like the tactician of clerics.
4) Change the Alignment System
Dungeons & Dragons is a game with a strong moral system. The alignment system of the game was created to help demonstrate the moral system of the world of Dungeons & Dragons. Over the years, the alignment system has become more complicated and more confusing. It would be nice to see the alignment system simplified, and it would be very nice to see some changes made to it.
The changes that would be made to the alignment system would be to make it a little simpler, so that it would be easier to understand. The changes would also be to make the alignment system a little more flexible.
5) New Magic Spells
Another area that 6th edition D&D could improve on would be to create new magic spells for the game. The new spells would be something that players could look forward to when they purchase the new edition. Some fans have suggested that new magic spells should be created for each spell level, while others have suggested that only high-level spells should be created for each spell school.
Do You Love DND & Tabletop Gaming?
Get access to
26+ RPG generators + our growing RPG content library.
Try my AI-powered
DND Backstory Generator
or my
Random Dungeon Generator
built with GPT-3 from OpenAI.
The new magic spells would be a great addition to the game, and the new spells would be something that players could look forward to. They could also be used as a way to give classes new abilities, and they could also be used as a way to make the classes a little more different from each other.
6) Different Rules for Different Monsters
When it comes to monsters, we all know the basics like orcs, goblins, and even behoiders. How about some new monsters, like the sturmbreaker, the gnoll arcanist, and the hobgoblin cleric?
This would be a great way to make the game feel fresh. There are hundreds of monster books that are out there already, but something new could be done for a sixth edition D&D rule set.
There are other areas that could be improved on, like the magic items, but these are some of the biggest changes that fans would like to see.
D&D Sixth Edition
If you would like to get more information on Dungeons & Dragons, or if you would like to get more information on roleplaying games in general, be sure to check out the rest of this website. Here at LitRPG Reads, we love D&D and many other tabletop role-playing games. We will do our best to provide you with information on tabletop role-playing games, and we'll also provide you with reviews on many of the great roleplaying games that are currently out there.