Next up, we have an interview with narrators Ralph Scott and Kendra Murray from Squeaky Cheese Productions. An award-winning producer with a get-it-done (with a smile) attitude, Ralph Scott produces audiobooks, audio theatre, scripted entertainment commercial spots, or pretty much anything within the live or recorded audio arena. Kendra Murray, the voiceover actor who is never without an audience. Even if she comprises all of the voices in the room!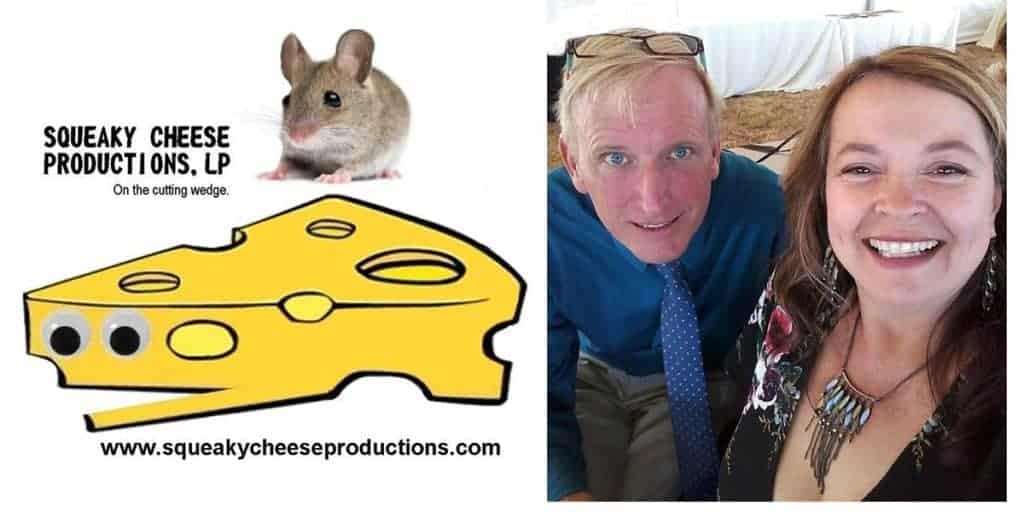 Can you tell us a little about yourself?
KM: I used to pretend I was on the Starship Enterprise in my garage with my brother when I was about 7 years old. I started acting in high school, ….several lifetimes ago, ahem. I returned to acting recently as a member of a Radio Theatre Troupe, the Petaluma Radio Players in Petaluma, Calif.

RS: And I worked in the next space over from the Starship Enterprise. Well, the cast, anyway, of Star Trek: The Next Generation. Having Klingons look in your window on the Paramount lot during lunch hour and wondering if Mr. Data was actually looking a bit peaked from the cigarettes during those break between scenes was an interesting way to kill time. Such are the unintended consequences of working as a Hollywood publicist. At some point in the late 90s, I dumped the press releases for the fiction manuscripts. Editing proved a serious love. That led to radio theatre. That led to marriage and narration. Not necessarily in that order. You'll have to ask KM.
How long have you been narrating audiobooks?
KM: I have been narrating for about one year.

RS: Same. And in the same 12'x13′ space. It's an intriguing test of collaboration. And on so many levels.
When did you first learn about LitRPG?
KM: I began to see LitRPG projects popping up on ACX about 3-4 months ago

RS: I spent way too much time on DeviantArt. It was another unintended consequence, like Klingons looking through the office window.
What do you like about the LitRPG genre?
KM: I love the wild and varied characters of the stories and the larger than life concepts.

RS: From what I can tell, the fans and artists are among the coolest people on Earth. We've never encountered such camaraderie and support. Especially for newbies. It's almost…weird.
What's your favorite narration that you've done so far?
KM: All the female characters in 'Taking the Plunge' a comedy/mystery about a PI trying to solve a murder case. Each character was a little bit more wacky than the last!

RS: Playing an astronaut who lands on an asteroid circling the Earth only to encounter a giant ape wearing a bubble space helmet. He's here to 'elevate' the species. Turns up every 50 years. The author, who lives in Greece, has a pretty huge following for his short-form sci-fis. He's almost as crazy as we are. Oh, the story? 'Astropithecus' by George Saoulidis.
Share a photo of your workspace and/or describe it?
KM: Home studio –as soon as my son moved out, we transformed his bedroom into a recording studio. We didn't kick him out, honestly! He was excited to be on his own. We'll be installing a soundproof window in the coming days, as well as upgraded acoustical treatment to the walls.

RS: Pix attached, sans Saffira the blind cat who, along with her seeing brother, Merlin, somehow manage to scratch outside the door at the most inopportune times. Though we did use her in a recent installment in the JaneMonterrey detective series. -Jane has a cat named 'Mr.Leonard,' named for the legendary actor who made 'Mr. Spock' the world's celebrity Vulcan and who reset the bar for everything logical.
What do you think about the future of VR / AI?
KM: That's a great question and cannot really be answered briefly. VR has changed the gaming experience to be sure! AI is being cautiously observed and thoroughly debated in the Narration community. The human voice is so much more beautiful with its idiosyncrasies and imperfections than a synthetic voice. We are hoping that audio listeners will discern real from AI, and demand human voices for their audio entertainment. AI is less threatening as it pertains to other interactive technologies, but the lines are being blurred constantly.

RS: Would you believe the above answer was written by a Bot? Only I haven't the heart to break it to…her.
Do you personally read or listen to books more often?
KM: I'd say it's about a 50/50 split for me. I love audiobooks, but I also thrive on seeing the written word in front of me.

RS: Well, if it weren't for the stream of fender benders (ask my autobody guy; he loves me; strange), I would think that audiobooks play some significant role in my future.
Do You Love DND & Tabletop Gaming?
Get access to
26+ RPG generators + our growing RPG content library.
Try my AI-powered
DND Backstory Generator
or my
Random Dungeon Generator
built with GPT-3 from OpenAI.
Any favorite authors from any genre?
KM: I am a genre-jumping gal, and as I'm new to LitRPG I'd love some recommendations on where to start! Some of my favorite authors include: Hugh Howey and 'Wool Omnibus'; JF Perkins "Renewal'; Diana Gabaldon and the 'Outlander' Series, Robert Kroese 'The Chicolini Incident', and a host of other authors like Janet Evanovitch for my guilty-pleasure reads.

RS: I've seen almost every sci-fi in recorded history. I've read a few, too. I'm hanging in long enough for a body of biotech experts to figure out how to clone Ray Bradbury. I believe Ray is God. Of course, this is coming from a guy who has screened 'Aliens' and 'Nice Girls Don't Explode' collectively 28 times. So I may not be the right one of whom to ask this question.
Advice for authors wanting to create an audiobook?
KM: Do it! But consider writing more conversationally and less narratively. Meaning let your characters tell the story in their dialogue. And leave behind the "he/she said" attributives.

RS: Oh, yeah, definitely dump those line tags. If your characters are in a dialogue (and we're doing our jobs correctly behind the mic), we know who you are.
What can fans expect from you next?
KM: Working on Books 2 and 3 in the 'Jane Monterrey Mystery Series,' and hoping to begin work with multiple actors on full-cast audio drama projects.

RS: Hailing from radio theatre backgrounds, multi-cast is a definite appeal. Indeed, we'll be auditioning voice talent from around the world this summer. We've befriended a lot of really talented voice actors at A.P.A.C., Podcast Movement, and HEAR NOW during the past 12 months. And we have some very engaging roles to fill.
Anything else you would like to add?
KM: I love creating and performing character voices, and would be honored to find my voice in the LitRPG realm, so I'm wide open for any opportunities to collaborate here.

RS: Yeah, me too. But please…no stories with cats. Been there, been scratched by that.
Ralph & Kendra
SQUEAKY CHEESE PRODUCTIONS, LP'
On the cutting wedge.' (TM)
I: www.squeakycheeseproductions.com
E: info@squeakycheeseproductions.com
P: (707) 971 9419