Phoenix Grey is the super secret nerd pen name of a USA Today bestselling author. She currently lives in a secluded podunk town outside of San Antonio, Texas where she can hermit away while working on books and playing video games. When she's not busy plotting her world domination, she can be found hosting game nights at the local comic book store or checking out the latest recommended anime. She loves hearing from and interacting with fans, so feel free to stalk her in the following ways: Mailing List, Facebook, Reader's Group, and on YouTube.

When did you first start writing fiction?

I wrote my first full-length novel at 12 years old, but I remember writing poetry and short stories before that, though I can't recall precisely when I started.

What kind of books do you enjoy reading? Paper or eBook?

For pleasure, I tend to read epic fantasy like A Song of Fire and Ice and LitRPG. Currently, I'm reading through The Land by Aleron Kong. I read about a 50/50 split of ebooks and paperbacks.

What's your favorite under-appreciated novel?

Oh, that's a difficult one. I would have to say it would be the space opera series The Saga of Seven Suns, written by Kevin J. Anderson.

Of your books, which is your personal favorite? Why?

Of my current series, it would have to be the second book The Realm Between: Two Brothers. I enjoyed writing the dungeon crawl and story of betrayal.

You can make one LitRPG book (not your own) a movie. Which is it and why?

I would have to say The Hall by Frank G Albelo.

Do you believe in writer's block?

Oh yes. Unfortunately, I get it at least once a week.

Are you an outliner or pantser?

A 50/50 split.

What is your writing process like?

I first write a basic outline. Usually just a few sentences per chapter covering the main scenarios I'd like to illustrate. Then I panster it the rest of the way. I write the entire novel without looking back. Afterward, I go through with Grammarly to iron out any blatant grammar and spelling issues. Then the book gets sent to my editor.

How many hours a day do you write?

On a full writing day, it can be anywhere between 4 and 6. But full writing days aren't typical for me. Usually, it's somewhere between 1 and 4 hours a day.

Share a photo of your workspace and tell us about it?

My workspace is just a small desk that I've owned for almost my entire life. It can get messy sometimes.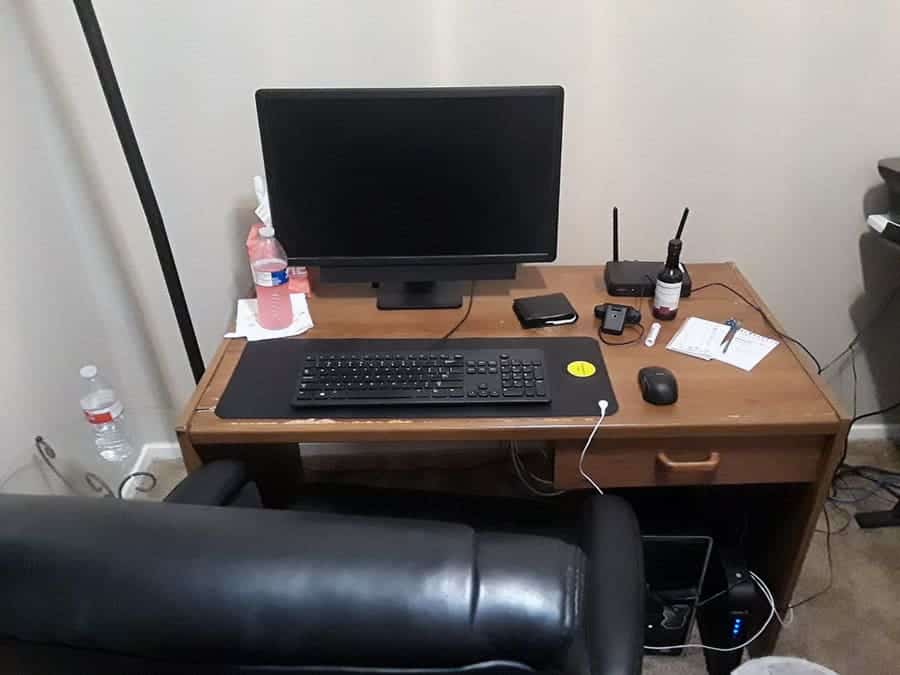 Who are some of your favorite authors of all time?

Anne Rice, J.K Rowling, and R.L. Stine.

If you could have any super power, what would it be?

The ability to shapeshift into anyone.

Where do you get your ideas?

Inspiration can come from anywhere, from movies and reading other books to conversations with friends about their D&D campaigns. Mostly though, I write what I want to read.

What are your thoughts on how VR will affect the future of humanity?

I think it will be a long time before the VR that we write about in LitRPG becomes a reality. But I would hope that it eventually becomes like the mini-series I'm working on now where computers will be able to tap into our brains while we sleep so that we can multi-task, enjoying gaming while also getting a good rest, thus freeing up our non-working waking hours to be more productive with other tasks, not that I honestly believe that most people would take advantage of that.

What kind of research do you do, and how long do you spend researching before beginning a book?

Tons and tons of research. Hours upon hours. Most of that is spent looking up potions, skills, and spells in popular video games, character sheets, leveling mechanics in video and tabletop games, and researching medieval weapons and architecture. There's so much that goes into writing a LitRPG book.

First video game memory?

A Nightmare on Elm Street DOS version.

What can fans expect from you next?

In the next installment of The Realm Between, I'll be introducing the first character, aside from Azure, who clearly comes from the real world. This person is going to drastically change the way Azure sees The Realm.

Anything else you would like to add?

Reviews are important for selling books. If you're a reader, one of the best things you can do to support your favorite authors is to review their books.