Hopping online and playing games have been among the favorite ways for people to keep themselves entertained during the pandemic. However, if you have just discovered the fun and enjoyment of gaming, you might be fully ready to commit. After all, buying all the necessary pieces of tech can be expensive.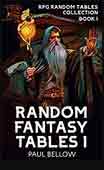 Fantasy RPG Random Tables Books
Make life as a Game Master easier....
If you play Dungeon & Dragons, Pathfinder, or other fantasy tabletop role-playing games, this
RPG random tables book
is full of encounters, NPCs, and more. I also have a complete adventure, including a dungeon map and room descriptions. Check out the
Dungeon Maps Described
series today!
However, if you enjoy playing games online, you want to make sure your internet speed is up for the challenge. While the right equipment and setup will certainly improve your gamer setup, fast broadband connection will instantly elevate any setup decision you make! So, before further ado, you want to test your connection speed. If it is below 20 Mbps, you may want to start looking for a high speed provider. It's worth comparing costs and packages. Spectrum Internet plans and prices are typically a great choice for most urban gamers, for example.
It is also true that, without the right gaming PC and setups, your overall experience can be significantly affected, thus causing you to give up on your passion too early! Here are just a few reasons that can help you understand why investing in a better gaming setup is not a waste of money. 
Look After Your Health
Playing video games has many benefits – for adults and kids alike! In fact, this hobby can speed up reactions, improve eye-hand coordination, refine creativity, enhance cognitive skills, and improve vision. However, sitting for several hours in front of a screen can also be detrimental to your health, especially if you are trying to live a more active lifestyle. The right ergonomic chair, an adjustable desk, and the right lighting can safeguard your health.
Improve Your Gaming Experience
Over 66% of the US population is believed to enjoy gaming – and for more than a reason! After all, gaming can be a fun, exciting, competitive, and creative activity. At the same time, many factors can influence your experience when playing your favorite game. Choosing the right computer, furniture, and devices can enhance the graphics, create a more realistic experience, and allow you to game for longer.
Enhances Collaboration
One of the reasons for people to play video games – especially during the months of self-distancing and isolation – is the fact that they can play with friends. Playing games with your best friends is a way to strengthen your bond, have fun, and improve your communication skills. At the same time, proper communication between you and your team means better collaboration – and better collaboration often means better chances of winning!
It Creates a Dedicated Space
As we have seen, gaming can have many benefits. However, this hobby should not take time away from other important activities you need to address during your day. For example, it is vital for you to spend time with your family and loved ones, and you need to focus on work and dedicate time to yourself.
Activities such as exercise and cooking also need enough time dedicated to them! Investing in a gamer setup can help you create a dedicated space to go to – and leave when needed!
Improves Comfort and Performance
The right computer setup can help you give your best when gaming. In fact, devices such as a cutting-edge headset, several gaming monitors, a gamer-friendly keyboard, a state-of-the-art gamer chair, and ergonomic computer mice can improve both your performance and your comfort.
In fact, these devices can shorten your reaction times, allowing you to move faster through the game, avoid pitfalls, and move onto the next level. Additionally, because these devices can improve your level of comfort, you don't have to deal with back or neck aches – and you can continue playing for much longer!