Welcome to my selection of the top 10 essential DND DM accessories that every Dungeons & Dragons Dungeon Master will appreciate! If you're a DM yourself, or you're looking to bring a smile to the face of your group's fearless narrative guide, then you've hit the jackpot with this article. Here, I've collated nine phenomenal gift ideas that are far more than simple novelties or display pieces – these are practical tools that promise to enhance the gameplay experience, streamline the adventure creation process, and boost the DM's ability to craft and sustain a captivating campaign world.
From newbies taking their first steps behind the screen to seasoned veterans who've been rolling the dice for decades, every DM knows that running the game is both an art and a science. It's about more than just facilitating combat and keeping track of initiative; it's about building worlds, spinning tales, and creating an immersive, shared experience for everyone at the table. That's where these handy accessories come in, designed to lighten the load, inspire creativity, and keep the action running smoothly – all while adding that extra touch of magic that takes a game from good to unforgettable.
Whether you're shopping for a gift, enhancing your own DM toolkit, or simply curious about what tools could take your D&D sessions to the next level, you're in the right place. So let's dive in and uncover these treasures that are guaranteed to earn you a natural 20 in the eyes of your Dungeon Master!
Best D&D Accessories for a DM
Best DND Accessories for a DM
Here's a look at my top 10 picks for D&D accessories if you're a Dungeon Master – new or old!
The DM Screen
This is a classic D&D accessory that every Dungeon Master needs to have at the table. The Dungeon Master's Screen is a folding cardboard screen with DM information printed on one side and a player's side on the other that usually includes art. There are basic DM screens and rather elaborate ones that are hand-crafted with love by a high-level D&D player.
DND Dungeon Master Screen (Fake Leather)
This DM screen is a great way to hide your secrets and information from other players. The player-facing design is epic and the inside is useful with pockets for your most important information. It can be folded down to a more portable size, but it's still pretty large. It folds down to 9″ x 12″ by 0.5″.
In a nutshell, it's a great DM screen. The price is a bit high, but if you're looking for DM accessories as a gift idea, trust me, you want to get this DM screen. There are four panels on the inside, and you can put your notes or information about NPCs or other things in the pockets.
The front has a cool embossed dragon and mimic that will make your players think you bought this screen in the Forgotten Realms. The DM screen is perfect for DMs who want to make their sessions more immersive and the pockets are perfect for holding the information you need during the game. You can even use dry-erase markers to write on the pockets. Overall, this DM screen would be a cool gift for almost any DM.
---
An Initiative Tracker
Keeping track of initiative during combat is a very important task, especially when there are a lot of monsters and NPCs facing off against the adventuring party. When there are a large number of combatants on the battlefield, it can be difficult to keep track of where everyone is in the initiative order. To remedy this, many DMs use one method or another to keep track of initiative on a round by round basis. (Bonus Gift Idea: DND Miniatures Condition Markers – 96 Rings to Track 24 Different Status & Spell Effects.)
The DND Initiative Tracker
This is a bit, um, extreme, but when it comes to DND accessories that make great gifts for DMs, this might not be the best. Every DM needs one of these to track battles, but the overall design and production quality of this one might not be up to par. Combat initiative can be festive and immersive with this DND accessory – when it works.
It does a lot more than just track the combat initiative order. With flag markers and temporary markers, it can track such details as materials, effects, actions, and status. However, once again, I did a bit of digging into the reviews. Most are 5-stars with nothing written about it.
The reviews that have been written list a few complaints and improvements that could be made on the product. For the price, you might want to buy a more basic DND initiative tracker, but if you've got money to blow on DND stuff, give it a try and let us know!
Overall, this might be a great product for DMs and RPG enthusiasts. (If honesty costs me the sale, so be it!)
---
Battlemaps
Speaking of battles in D&D, every good DM will need multiple battlemaps. These are maps that represent the various environments that the PCs enter during the adventure. They are more than just maps; they are tactical aids that help to quickly and easily set up encounters. They're typically created with one-inch squares, but hexagon battlemaps do exist somewhere in one timeline or another.
The Original Battle Grid Game Board?
If you've heard of the Battle-Board brand before, they've designed a "must-have" DM accessory if you're serious about tabletop RPGs. Think of this as the original battle grid game board. (Or at the very least, one of the first commercially available.)
The board has a 1″ square and a 1″ hex grid that is wet/dry erase. You can add your dungeon details for one-night then use it again to create another battle map. This can restore a sense of order and sanity to your everyday life, saving time and discomfort.
This is an accessory for DMs who love DND and want to make the most of their time. It comes with a bonus set of polyhedral dice, some multi-colored markers, and even an eraser. They've truly thought of everything in this DND accessory.
Overall, this is a great board for anyone serious about tabletop RPGs.
---
Campaign Notebook
Keeping notes on the campaign world is essential to keeping things straight. A notebook you can carry with you much of the time is the most convenient way to do it. You can jot down notes about your D&D campaign at the moment they occur to you on the go, and bring them in for game time.
Leather Lined DND Journal With Lock
This DND journal is beautiful. Made from leather, it's perfect for sketching and writing with 200 pages of space – i.e. 100 pages of paper. The paper, by the way, is handcrafted and made from cotton. So, you don't have to worry about bleeding ink.
For a DM who wants a bit of flair for their DND campaign notes, this journal is perfect. It's the perfect size – 6″ x 1″ x 8″ and is the perfect gift for a DM who loves DND. The only problem with this DM accessory is that it could be longer – ie more pages.
But if you're looking for a gift for a DM, and you don't want to break the bank, this would be a great gift. It's a leather-bound journal, with a lock and, while it's not the biggest, it's great for DMs who like being creative and who want to keep their notes and secrets hidden from the players in a mysterious way.
---
A Handful of D&D Dice
This might seem redundant, but you can't have too many D&D dice! Every good Dungeon Master needs to have at least 10,000 dice! Okay, that's a bit much. Maybe 1,000 polyhedral dice? Ugh! Fine! We'll make do with 500 dice! In all seriousness, having a good supply of D&D dice on hand is a necessity.
Flashing LED DND Dice Set
Good idea, bad execution?
Technology and D&D dice have fused to bring you the best in dice technology. This polyhedral dice set has 7 dice in it. These are the same seven polyhedral dice as normal but this set comes with a charging box. What? I know. Keep reading.
The set comes with embedded LED lights that glow red, blue and purple. When you shake the dice, the lights will glow and change colors. This, obviously, adds to the atmosphere of the game. You can now have glorious battle in a dark dungeon and easily see which dice you're rolling.
The dice are made from metal and the numbers are embossed. The dice are also a tad bit lighter than a normal dice of the same size, but to be honest, I haven't noticed any difference when throwing them.
The set comes with a charging box, but… reading reviews, you MIGHT have trouble with charging – or even getting all the dice to light up. While this is a super cool idea and there are many positive reviews on Amazon (more than negative), you still might want to wait until the brand sorts out all the bugs. Then again, for a one-shot adventure Beyond the Barrier Peaks, they might be good? You decide!
---
A Dice Box
Having a place to store all your dice is also important. Since you'll probably have hundreds of dice, you'll want to keep them in a place where they'll be organized and easily accessible. A dice box is a great place to store your dice. You can even get fancy and buy a Mimic dice box or something similarly cool.
Mimic Chest Dice Storage Box
Ah, yes, this has to be one of the very best DND accessories for DMs. Yes, I'm talking about the dice box that's a mimic. This is a high-quality poly resin and handcrafted. The material is strong and reliable. The box comes in a regular and large size.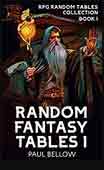 Fantasy RPG Random Tables Books
Make life as a Game Master easier....
If you play Dungeon & Dragons, Pathfinder, or other fantasy tabletop role-playing games, this
RPG random tables book
is full of encounters, NPCs, and more. I also have a complete adventure, including a dungeon map and room descriptions. Check out the
Dungeon Maps Described
series today!
The poly resin is strong and resistant to scratches and cracks. It's the perfect size for a variety of miniatures, dice, or tokens. It probably won't hold ALL your dice (if you're like me), but if you have a special set of dice, you can put them in here.
The dice chest has a lock that's easy to use and comes with a key. It also comes with a velvet interior for maintaining the integrity of the dice. This is a great gift for a DM. It's a cool DND accessories, and it's not too big or too small. You can store a good amount of your things in it.
This Mimic Chest is the perfect size for the amount of dice you need for a game. I was impressed with the quality and the lockable hinge. I love this box and would recommend it to any DM looking for a good DND accessory as a gift for their forever DM.
---
Mapping Software / Tools
Plenty of great D&D mapping tools are available online, and some of them are even free! Whether it's Dungeonscrawl or Dungeon Alchemist, having a good mapping tool is a good way to build out your world and/or particular dungeons or locations.
---
Good D&D Music
You don't want to go overboard here, but good D&D music is an accessory that will help even the lowest level DM! Having a way to easily play various tracks is crucial. Not a lot of dedicated D&D accessories exist for this (that I know about!), but D&D music is still an accessory you can put together on your own with an MP3 player, your phone, or even an old boombox.
---
Dice Bag
If a dice box isn't your thing – and you don't have too many dice – a bag to keep them in is another essential D&D accessory for Dungeon Masters. The classic is the blue Crown Royal bag with a drawstring, but there's special dice bags you can buy that are designed to hold specific quantities and types of dice.
---
DND Core Gift Set
Imagine the sparkle in the eyes of your loved one—or even yourself—as they unbox the D&D Core Rulebook Gift Set. Nestled within are exclusive foil-covered editions of the three pivotal D&D core rulebooks: the Players Handbook, Dungeon Master's Guide, and Monster Manual. These aren't just any editions; they are the beacon of the fifth edition, essential for both newcomers and seasoned players. Adding a cherry on top is the Dungeon Master's screen, ensuring every game is as immersive as the last. All of these gems come neatly packed in an elegant slipcase, making it an impeccable gift choice for any occasion.
But there's more to this set than just its visual appeal. It is updated with the most recent rules and errata, ensuring players are always on top of their game. Since its inception in 1974, Dungeons & Dragons has been the cornerstone of roleplaying games, ingeniously fusing traditional fantasy elements with miniatures and wargaming. This gift set embodies that legacy, offering a piece of that rich history and a promise of countless adventures to come.
Fantasy RPG AI Generators with ChatGPT+
Make life as a Game Master easier....
If you play Dungeon & Dragons, Pathfinder, or other fantasy tabletop role-playing games, check out my
DND AI backstory generator
and other fine
AI RPG tools
at LitRPG Adventures Workshop today.
---
More D&D Accessories
For More D&D accessories, be sure to check out Best RPG Books, another website I've put together to help Dungeon Masters. You can read about all sorts of D&D accessories, including the ones mentioned above and others. Stay tuned for more D&D articles about being a DM and player. Here at LitRPG Reads, I take pride in finding the best of the best for you!