Ever want to read a book where the MC is a dungeon? LitRPG has you covered with our list of the best dungeon core books! This exciting sub-genre of LitRPG draws on old video games like Dungeon Keeper and the Dungeons franchise. We rounded up some of our favorite dungeon core novels and will go over them below. Be warned, we have some that aren't from the POV of a dungeon, but we wanted to include them as we consider them dungeon core adjacent.
Dungeon POV LitRPG Novels
Here's our list of the best Dungeon Core LitRPG books, including those that are "dungeon core adjacent" – ie they're not told from the POV of the dungeon, but we liked them enough to include them in our list. Ready? Let's dive in!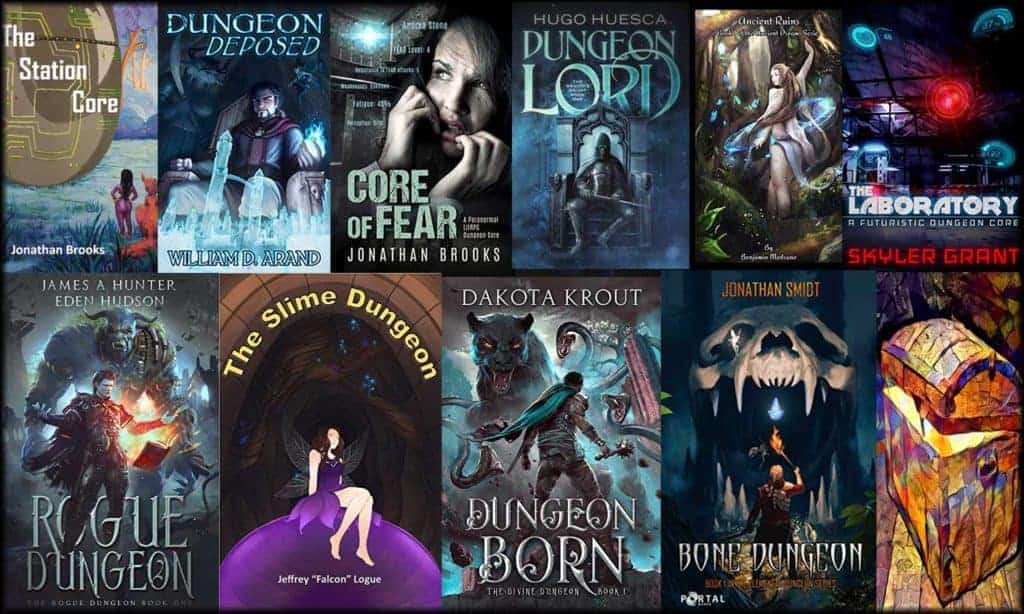 Dungeon Born
Written by Dakota Krout  and published in 2016, Dungeon Born is the first of the extremely popular Divine Dungeon book series that just recently ended with book five, Dungeon Eternium. Here's a look at some of the hundreds of reviews the books have received.
Overall, I felt the premise was very promising. It was different in that it (often) focuses on dungeon diving from the viewpoint of the dungeon rather than the diver. This provides an interesting outlook while still providing the otherworldly fights we fantasy readers crave. For someone who doesn't want spoilers, the best description/review I can give of the book is that it is a story about a dungeon, from conception to a place filled with death and danger. It is also a story of character evolution from both the dungeon and some of the divers which enter its maw.

Dylan Schnabel / Fresh twist on a familiar concept
While parts of the dungeon design got a little boring in places (pacing was a tad slow in spots), the rest was a very interesting, fairly light-hearted look at a dungeon's point of view in how he creates monsters, levels them up, and tries to make them formidable even when annoyingly powerful groups come a crawling. The writing was well done with a witty humor that kept me chuckling throughout. Allowing one of the POV characters to be a human allowed the reader a glimpse of what was going on outside the dungeon which gave the story a nice variety. The ending was especially awesome and I can't wait to read the next book in the series.

C. Aus / Fun story from the dungeon's point of view
If you're looking for something a little different, this is a good place to start if you want to learn more about dungeon core novels. Once you start, you'll soon learn why this book has so many rave reviews. When it comes to dungeon POV books, The Divine Dungeon is a classic that you need to read.
Bone Dungeon
Written by Jonathan Smidt and published by Portal Books in 2019, Bone Dungeon is a lighthearted dungeon romp. The first rule of ******. Aargh, I can't talk about it! Small smile. In all seriousness, this is another example of the dungeon pov novel evolving over time.
Ryan doesn't remember much about his life before becoming a dungeon core. Only that he had a bit of a disagreement with the church — something to do with a beheading? Now reborn, Ryan begins to arm his darkness dungeon with devious traps, bestial zombies and ill-named skeletal creations, without doing anything too evil. But Ryan quickly learns being a darkness dungeon isn't all loot and bone puns.
Reviews? Here you go!
A well balanced book, Bone Dungeon is a great recommendation for someone looking for their first book in the genre. In many books the 'dungeoning' start early and the author expects you to know the genre tropes. This is a good thing if you've read a few of these, but not so much for a beginner. Bone, however starts a little slower and takes its time explaining the basics using the "clueless dungeon, knowledgeable fairy" trope. New concepts are introduced slowly and only as they are needed, like a good puzzle game would do.

B. Gazzola / A good entry point into the genre
If you like Dakota Krout's Divine Dungeon series , I feel confident this book will also bring joy to you. There are so many things to enjoy: the puns, the various references, and the story itself. I very much look forward to reading the sequel, because after reading this book, it has a lot to live up to!

P. Townley / Joyous to read
Bone Dungeon has quite a few other reviews, so if the description above interests you, go check it out. You can also read the author's Dungeon Core Online free currently on Royal Road.
The Slime Dungeon
Written by Jeffrey "Falcon" Logue and published on Amazon in 2016, The Slime Dungeon is one of the very first dungeon core LitRPG novels to arrive on the scene. Since that time, it's become a favorite with fans of the genre.
From the description, "Death came on swift wings. A soul, blessed by a goddess, falls to the land and enters his new life. He clings to a single memory, the defining moment of his previous life. Now, he learns how to succeed in his new life, as a new dungeon heart. To become the best dungeon he can be, he partners with the one existence all dungeons need: his bonded Dungeon Pixie."
Reviews are very good for this novel.
Overall, I enjoyed this book. I came for the dungeon building, and that was delivered nicely. My only complaint is that the characters are a bit boring. They feel a bit cliché so I can't say I ever felt particularly surprised. Ultimately, I stayed for the dungeon building, not the plot. That said, well, I came for the building, so 4 starts it is. I'll definitely continue to read the series and would recommend anybody looking for a dungeon/monster builder to give this a shot!

Austin Youngblood / A fun read
This is by far one of the best dungeon books. The dungeon actually "feels" like a dungeon in character and the story revolves around the dungeon's point of view. The characters have actual character and the story has gore with meaning and not just for it's own sake. The only bad thing I can say is that there are only four so far…..I look forward to number five!

Frank / One of the best dungeon story books by far
Four books in The Slime Dungeon Chronicles are available on Amazon. There's rumors of a Slime Metroidvania video game coming in 2020!
The Laboratory
First published by Skyler Grant in 2017, The Laboratory is a science-fiction dungeon core LitRPG series. Currently sitting at nine completed works, this series is great for those wanting something a little different than the standard fantasy dungeon core. This Futuristic Dungeon Core is definitely something you should check out.
From the blurb, "Emma is an artificial intelligence with a love of science, insults, and devilish traps. When her systems are booted up she finds herself in control of a long-abandoned facility in a post-apocalyptic wasteland. The world is filled with dangerous threats granted great powers by the same cataclysm that befell the world. Emma must balance safety with the desire for test subjects as she brings herself back fully online and stakes out a place in this new world. "
A couple select reviews from Amazon.
I want more! I found the story to be original and interesting.
I liked the interacting between the A.I. and the Queen of the World.
My only problem was with how fast I burned through this book.
I highly recommend this book for those that enjoy dungeon books.

Johnny Clark / To freaking short!
Just yes. This is one of the most enjoyable sci-fi books I've read this year. It is fast-paced, filled with action, super-powered villains and heroes and cyborgs – everything you'd want in an entertaining novel from this genre. But the thing that sets The Laboratory apart is the protagonist and sometimes antagonist of the novel, a quantum super computer with a highly developed, scientific and sarcastic personality. The real story here is the humanization of this conscious machine, which is brought back to life after being dormant for many, many years. At first, the computer sees humans as nothing but a means by which to attain a more favorable outcome (or upgrade). Throughout the book, as allies and enemies are formed in fast order, this machine has to reevaluate its priorities (like a person) in order to survive. Super fun!

honestjuan / The Mind of a (Slightly) Insane Machine
If you've read all the classic dungeon POV novels set in a fantasy setting, you should give this series a shot. The books are short, but they're coming at a steady pace. It's always good to see a bit of experimenting when it comes to genres of books, especially dungeon core LitRPG.
The Station Core
More science-fiction dungeon core? Yes! Written by Jonathan Brooks and published on Amazon in 2018, The Station Core is another futuristic dungeon POV novel. Even better news? There's more than one book. The Station Cores series is currently sitting at four full-length books. From the blurb, "Milton Frederick was arguably the best player of Crowned Lieges of Destiny in the entire world. As the strategy coordinator for one of the top guilds, he was beginning to actually make a living from it. That was, until he was abducted by aliens. Instead of your stereotypical grey aliens with big black eyes who like to perform anal probes upon unsuspecting victims for unknown reasons, The Collective had a more altruistic purpose."
The Amazon reviews are a bit mixed, but more than one person had good things to say about this book.
I found this book while browsing absentmindedly on Amazon and I am very glad I did. The book mixes multiple genres (Sci-Fi, Fantasy, Dungeon Core, Strategy, coming-of-age etc. etc.) in a surprisingly congruent way, leading to a very fresh take on LitRPG. The book is easy to get into (also for people who do not know or like stats – and for those who do), the story is interesting and builds up nicely, leading to some nice twists. The inevitable rough edges (some plot holes, some mind-scratching decisions, one or two – for me – too graphically-violent scenes) are much less important (in my view) than the power of the story, the nice little humorous references and dialogues and the sheer potential of it all. I'm truly looking forward to its sequel, congrats to the author :-).

Ciprian Dumea / A very good start for an innovative series
My first 4 star review. I absolutely loved the plot and the premise, however, with the powers and world involved in the book, I'm in agreement with another review regarding the MC being a loser.
For a so called gamer, all he does is craft his "dungeon" and time skip when in my mind I'm screaming, optimize better you lug nut. He slept for 100 years and barely expanded his production base. I'd like to see more empire building and planning.

Jared / Good start
The latest book in the series, The Kingdom Rises, was published in April of 2019 and has received good reviews on Amazon.
Rogue Dungeon
Published by James Hunter in 2018, Rogue Dungeon is a fresh take on the dungeon core genre. While not technically a dungeon core as it isn't told from the dungeon's point-of-view, a good part of the book takes place in a dungeon. Fans of more traditional dungeon core novels will enjoy this fun and action filled romp.
From the blurb, "Roark von Graf—hedge mage and lesser noble of Traisbin—is one of only a handful of Freedom fighters left, and he knows the Resistance's days are numbered. Unless they do something drastic. When a daring plan to unseat the Tyrant King goes awry, Roark finds himself on the run through an interdimensional portal, which strands him in a very unexpected location: an ultra-immersive fantasy video game called Hearthworld."
Here's a couple of the reviews on the book.
I've never read a litRPG novel before, in fact I didn't even know what litRPG meant, so I had to look it up to see what I was getting myself into. I have to admit, for someone whose only experience with gaming is Pokemon & Candy Crush (I know, I know, don't laugh!) it took several chapters for me to get into but once I caught on I felt rather proud of myself for "getting it". Since I don't play video games (well except for what I mentioned earlier…shhhh) all this was new and fascinating to me.

silvia / Fun!
I blind bought this after a recommendation from Dakota Krout, an author who's books i have really enjoyed. This book starts off with a short real life conflict, and then transitions to the dungeon for the rest of the book. It is pretty much solid action with some funny references interspersed throughout, making for a fun read. There is a solid cliffhanger leaving you wanting to read the next book, and see how the MC progresses into the next levels of the dungeon.


John D Bostrom / Solid dungeon action with a twist
There are currently three novels in the Rogue Dungeon series. It's definitely one to check out whether you're new to LitRPG novels or you've been a fan for a while and somehow passed this great series by.
Dungeon Lord
Published by Hugo Huesca in 2017, Dungeon Lord is the first book in the Wraith's Haunt LitRPG series. He has been writing for decades, and it shows in the quality of his work. This novel goes beyond hack and slash to offer something more. Like Rogue Dungeon, this isn't told from the POV of the dungeon, but fans of dungeon core will still enjoy.
From the blurb, "Dark forces have extended Edward Wright an offer of incredible power at a terrible cost and Edward has chosen to make them regret it. When he is swept into the world of Ivalis as a Dungeon Lord, the Dark's most powerful servant, he has no servitude in mind. But in the battle between Dark and Light, what can Edward choose if both sides are cruel, uncaring monsters?"
Here's a look at a couple reviews from Amazon.
One part action adventure, one part dungeon building, one part leveling up. This book has it all in the right proportions to make a wonderful read. There are many books in the LitRPG genre that I can't finish or I don't care enough about to read the next books in the series. Dungeon Lord is an exception.

TN Man in LA / Dungeon Building + Action + Exploration + Character Advancement = LitRPG Goodness!
Definitely a gray morality kind of book. Most of the choices that Edward makes are objectively good, but everyone hates him, and sometimes the choices are more… worst of two evils kind of thing. The dungeon aspects are somewhat limited (kinda reminds me of Warcraft, C&C, etc) but do tie in to the story strongly.

Kindle Customer / More please
Again, this isn't your typical dungeon core book, but in this case, that's a good thing. Give The Wraith's Haunt book series a look if you enjoy deep dungeon dives that go beyond basic hack and slash. Don't worry, though. There's plenty of action in these books too.
Dungeon Deposed
Written by William D. Arand and published in 2018, Dungeon Deposed is yet another dungeon core novel. It brings a bit of the harem genre which isn't unique, but it's done well. This is definitely a book for adults.
From the blurb, "Ryker only has one goal in his life right now: Turn a certain adventuring guild into a flaming wreck while dancing merrily through the smoldering ruins. All for the chance to get back at a handful of people. It isn't as if they didn't deserve it either. They had driven him from his home. Chased him physically from the very guild house itself. All the way to the gates of the city. Simply because he wasn't as strong as they expected him to be."
This book has hundreds of positive reviews on Amazon.
This is a harem style tale, and it is the female monsters and humans that help him begin his movement toward redemption. Still not a nice guy at the end, but a man of his word, and becoming better because of the people he himself has drawn into his life. The ending, too, was a surprise. Not a fan, though of cliffhangers, so I expect Mr Arand to write the follow up story SOON. Recommended.

Dannan Tavona / I wasn't happy with the main character
This is my first book review ever. I'd like to keep it simple and spoiler free. I've read most if not all of William's books and the first thing I can say is give this one a fair chance. It started off slow for me, and did not grab my attention as quickly as his other books. That being said when I finally got like 25% into it I was hooked. I finished the book in a day. Initially Ryker did not draw my interest. He comes across as a very jaded selfish man holding onto grudges long past. Throughout the book it became clear while jaded and full of flaws there is still a lot to love about him. The concept of the dungeon and all it's tricks and turns was a delight. Odd feeling rooting for a hero hell bent on other's deaths. If you like the unconventional romance in his other books it once again shines in Dungeon Deposed. Like all Willam's books it left me craving more. Just remember give it a fair chance!

Burke Rissman / Stick with it
While not your typical dungeon core novel, for some people this might be a good thing. Check it out if you're looking for a grittier dungeon POV novel.
Core of Fear
Published by Jonathan Brooks in January of this year, Core of Fear is another spin on the dungeon core genre. This time it mixed the familiar dungeon POV tropes with a bit of horror. Not everyone will enjoy this take on dungeon core books, but those who like horror are sure to get a pleasurable fright or two from reading it.
From the blurb, "Do you ever wonder why spirits take the actions they do? What if there was a system of rules they had to follow? Clive Logan is a serial killer; or, to be more accurate, Clive Logan was a serial killer. Caught after a record-breaking streak of murders, he was executed by lethal injection by the state, while thousands of his victims' grieving family members watched. That should've been the end of his emotionless and unfeeling existence – but it wasn't."
Reviews on Amazon are generally favorable.
Jonathan Brooks always creates a deep and logical system for the way his worlds operate and this book was no different. His story telling is immersive and I feel because of that you get a visceral response from the actions of the MC and you pity all those in his path. I didn't feel good at the end but I did feel … Satisfied? 5/5 prayers will continue to read this series.

Stephen M / Dark and haunting
This book is a great new twist on the Dungeon Core genre, which also includes a thrilling horror story reminiscent of the old Poltergeist movies. The story is very dark and the protagonist unsympathetic, so readers bothered by that may not wish to read it. I greatly enjoyed this book, and eagerly await the sequel.

James Clark Pryor / Great horror movie in book form
Again, if you're looking for something different in a dungeon core novel, this should satisfy if you enjoy the horror genre.
Ancient Ruins
Last but not least, we have Ancient Ruins by Benjamin Medrano. Published back in 2017, this is another one of the early dungeon core books. Part of the five book Ancient Dreams series, this book (and the rest of them) are dark. If that's your thing, there's a good chance you'll like this book.
From the blurb, "Sistina awakened after millennia of dormancy, her memories in tatters and born anew. Residing in the ruins of an ancient city, she finds herself drawn into a war between two elven nations and the slaver kingdom of Kelvanis when she rescues a princess from slavery. With her domain containing hints of forgotten knowledge, Sistina becomes a dungeon, stronghold, and source of hope all at once. And perhaps, just perhaps, she could finally find love in her new life."
Over two hundred people have left reviews on Amazon for the first book in the series. Here's a sample of a couple of them.
I do recommend you give this book a try; it's a quick read with a great premise, interesting and complex characters, and good prose. I could barely put it down and am very much looking forward to the sequels. I want to put that out front first, because there are big themes to this book that I think need to be mentioned and that I don't see in anyone else's reviews. First, slavery is everywhere in this book. In the world created within the novel, slavery takes the form of a brand/sigil put on people that makes them obey the spoken commands of whomever holds the "key" unconditionally. And, seriously, there is a lot of slavery in this book since it takes place in the country taking slaves and most of the protagonists (save the main protagonist) have been branded as slaves. Though it's implied in the text that there are human slaves, all the slaves seen in the book are elves, and the clear majority of those are female elves. 

Brian Pederson / A great read, but with some fraught themes
The beginning of the book was surprising, it actually made me pause a bit. But I soldiered on, and began devouring it. It's an excellent read, even though some typos or some words are missing from sentences. But Sistina and co are awesome to follow and the twist at the end and the consequences are epic and delighted me. When people push and push something eventually give and the pushers need to live with their decisions. Humans, Elves, your specy don't matter we all have the same feelings and sin. That's what the book taught me. I can't wait for the rest of the trilogy!

Iori Angel / A surprisingly deep story.
If you enjoy a look at the darker side of fantasy, this dungeon core book is one you should at least check out. You'll know by the end of the first chapter if the series is right for you or not.
Wrath: Dinosaur Dungeon Book 1
When dungeon delvers and dinosaurs clash, who can survive?
Newborn Dungeon Cores must choose what entity they help contain, and that choice determines what monsters they are able to summon. After being executed for crimes forgotten in death, Tira is given the chance to make that choice. Tira chose Acekorah, the Primeval Terror, a being so dangerous few cores will risk trying to contain it.
The danger wasn't important. Tira remembers dying. If containing Acekorah means Tira will face greater danger, that's a risk worth taking, because the Primeval Terror walked the world long before the races of Man roamed the earth, and Cores bound to him are able to summon beings from beyond the veil of time.
Now, forged in the fires of Tira's wrath, the dinosaurs will walk the world anew.
5.0 out of 5 stars Unique genre and amazing action, intrigue, and fun Reviewed in the United States on April 22, 2021 Different style that I really enjoyed, hard to put the book down!

If you are going to read the book, jump to the back for a guide on different dinosaur descriptions, I didn't know it was there and was googling some types I didn't know.

Great book, kept me on the end, especially the last act which is the best action, strategy, and character development from this author yet.

Disclaimer: I got this book for free because I support this author on patreon

Thomas / Amazon
Your Favorite Dungeon Core LitRPG?
Did we leave out your personal favorite? Leave a comment below and let us know! We love hearing from the community.
Long live (Dungeon Core) LitRPG!