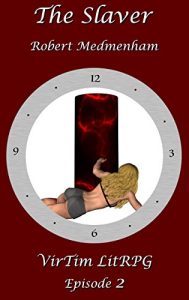 By Robert Medmenham
In this VirTim LitRPG episode, Reyn and Mianne gain a new party member. They also meet a slaver named Airoc who takes a fancy to Mianne. And Reyn has a strange experience that might help him to understand a little more about what's going wrong with the virtual game world.
The Slaver is a short story of around 7,500 words and is the second episode in the VirTim LitRPG adventures. The episodes should be read in order, beginning with 'The New Party'.
In the VirTim LitRPG series, Ryan is one of those who have
escaped impending nuclear war by entering Realms of Ralonus.
This is an immersive VR fantasy MMORPG. Once in the game,
Ryan becomes Reyn the mighty (or not so mighty) wizard.
Realms of Ralonus uses the banned Virtual Time Dilation
(VirTim) technology. This stretches subjective time for the
player. So Reyn's final few minutes before the bombs arrive in
the real world can become weeks, months or even years in VR.
However dying in the game means taking precious real-world
time to reconnect, so death in the Realms might mean death in
the real world.
Being killed by a goblin is no longer just embarrassing. It
could be genuinely fatal.
To make things worse, something is wrong with the virtual
world. Anomalies are occurring, high level creatures are
appearing in low level areas and even the scenery now seems
vulnerable.
If Reyn is going to have any chance of long term survival, he
needs to find out what is going wrong with the virtual world.
And fix it.
Along the way, Reyn makes new friends. The first of these is
Mianne, a thief with attitude who is very good with knives.
Then there's Guy, a healer in full armour who is always ready
for anything.
The VirTim LitRPG series is being released episodically as
short stories, free to read on Kindle Unlimited. The stories
should be read in order starting with 'The New Party'.