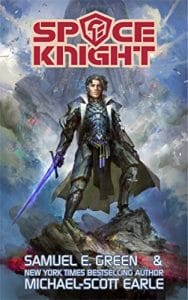 By Michael-Scott Earl (LitRPG Author)
In a universe where technology and magic co-exist, Nicholas Lyons desires one thing: to serve his queen as a Space Knight in the Royal Trident Forces. But when his final mission as an Academy cadet goes horribly wrong, Nicholas discovers he possesses illegal magical abilities that grant him power far beyond that of a normal man, knight, or mage.
When a clandestine assignment lands Nicholas on the worst starship in the kingdom's fleet, he finds a motley crew of warriors hiding their own terrible secret. Death and betrayal lurk around every corner, and Nicholas finds himself torn between his loyalties to his new crew, or the oath he swore to his queen.
And death no matter which choice he makes.
Bloody melee combat against terrifying enemies of all shapes and sizes. Mind-blowing space battles where magical firepower rules. Awesome loot with powerful special abilities. Job progression along many different pathways. If you love magical space opera with gear acquisition and character progression, Space Knight is the series you've been waiting for.