By Tad Williams  (Author)
Otherland…
Surrounded by secrecy, it is home to the wildest dreams and darkest nightmares.
Incredible amounts of money have been lavished on it.
The best minds of two generations have labored to build it.
And somehow, bit by bit, it is claiming the Earth's most valuable resource–its children.
Want FREE Wizard Character Backstories?
Want a full book of wizard backstories?
Get your
FREE Wizard Backstories
today.
Or, if you want to create your own D&D backstories (and more), head over to
LitRPG Adventures
today.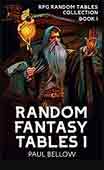 New Fantasy RPG Random Tables Book Available Now
Make life as a Game Master easier....
If you play Dungeon & Dragons, Pathfinder, or other fantasy tabletop role-playing games, this
RPG random tables book
is full of encounters, NPCs, and more. Available as an eBook or in a classic print format. Either way, you'll have a wealth of adventure ideas at your fingertips.