The Earth is changing.
The alien invasion brought social upheaval, advanced technology, and an armada of peacekeeping robots.
But Alan, a college student pursuing a now-useless degree, cares little about all of this. He has only one thing on his mind: the Game.
A fully immersive virtual reality, the Game appears to be a major part of the invading civilization.
Alan can't wait to play, recklessly diving into the digital universe.
Soon though, Alan realizes the Game is anything but simple, and the stakes are higher than he ever imagined.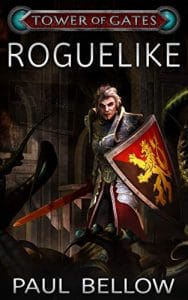 Desperately Seeking the Amulet of Yendro
Alex enters a roguelike embedded inside the Tower of Gates VRMMORPG. If he makes it out by avoiding Yet Another Stupid Death, he'll gain an epic magic item and rejoin his companions.
Was taking the chance and going into the roguelike his biggest mistake? Or will playing bring him even further riches and glory? Find out in this first supplement adventure in the Tower of Gates universe.
YASD! Aaargh! If you loved Rogue, Nethack, or any of the other procedurally generated RPGs, you should grab this book.