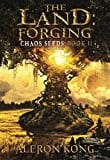 Chaos Seeds Book 2 by Aleron Kong
"We are life takers and heart breakers," Richter shouted. "Let's go!"
Richter and Sion are at it again! Even more of what you loved in the first book! Leveling, world building, awesome items, and what's that you say? Sure! Why not? What's a little necrophilia between friends!?!
Join your favorite Chaos Seed as he answers the call of adventure and deals with the invaders, greedy dwarves, and a wood elf that keeps telling him he has a pretty mouth!
Welcome back my friends!
Welcome back… to The Land!!!!
Facebook LitRPG Reads Comments
I'm using
GPT-3 AI for Dungeons & Dragons
RPG content.
Come check out the LitRPG Adventures Workshop AI-powered generators today and join our growing community! Generate or browse creatures, characters, quests, spells, governments, warlock patrons, skills, dungeons, undead, and more!