LitRPG Book by Kaye Fairburn (LitRPG Author)
As a Non-Psionic Contributor (NPC), Margot Hyland is fated to die on a weekly basis to greenskin raids on her hometown. Her life revolves around shoemaking, dying, respawning, and more shoemaking.
When Margot discovers a secret hidden in her family's basement, she realizes she has a chance to break that cycle.
Now, with newfound abilities she'll have to learn to control, Margot must brave a harrowing journey ahead of her to defeat the Stronghold targeting her town.
Hatchling is the first book of Wyvernette, a fantasy LitRPG series.
Fantasy RPG Random Tables Books
Make life as a Game Master easier....
If you play Dungeon & Dragons, Pathfinder, or other fantasy tabletop role-playing games, this
RPG random tables book
is full of encounters, NPCs, and more. Available as an eBook or in a classic print format. Either way, you'll have a wealth of adventure ideas at your fingertips.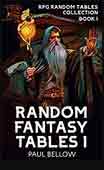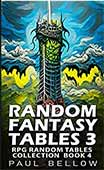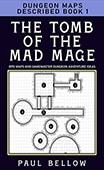 Length: 285 pages