Josh the Jock Barbarian On His Own?
When Josh dies on level one-one of the Tower of Gates, he jumps at the chance to work with a powerful player in the game. But is it the right decision? All he wants is to get out of the game, but it keeps dragging him in deeper.
Follow Josh's journey as he strives to stay alive and find his friends while making new ones inside the Tower of Gates. Leaping from one bad situation to another, Josh learns that even brutes need brains to survive.
Brute is book 4 of the Tower of Gates LitRPG saga.
RPG Dungeon Builder with GPT-3
Come join us! litrpgadventures.com
Fantasy RPG Random Tables Books
Make life as a Game Master easier....
If you play Dungeon & Dragons, Pathfinder, or other fantasy tabletop role-playing games, this
RPG random tables book
is full of encounters, NPCs, and more. Available as an eBook or in a classic print format. Either way, you'll have a wealth of adventure ideas at your fingertips.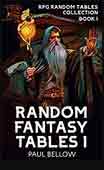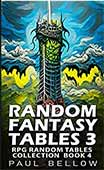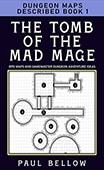 I've been reading a lot of LitRPG in the past few months, it's a new genre that appeals to my love of portal fantasy and classic, epic sword & sorcery. A lot of the books are either clumsily translated or clearly written by amateurs – not that that's a bad thing, but it can make for some rough reads. Tower of Gates, on the other hand, is clearly written by someone who knows what he's doing, and was professionally edited. The set up is quick and efficient, the characters have clear and well developed arcs and there's a good balance of action and downtime and plenty of mysteries set up to build a series on. I also appreciated that he didn't do anything weird or fancy to mark the "game" parts (the stat screens and so on) like tables, which are almost impossible to read on my older Kindle. The main problem I had was the author tends to tell rather than show. If you're very familiar with games like Warcraft you've probably already got a pretty clear mental image of what a goblin or a magic sword looks like, but I think the book could have benefited by some description to flesh out the worldbuilding. Amazon Review