Spread the love, earn +42 xp...
By Matthew Sylvester (Author)
It's 2100, Britain faces its greatest challenge as the remains of the European Combined Armed Forces dig in to repel the imminent ChinKor Republic invasion of Great Britain.
Bombers and missiles destroy whole swathes of British cities and countryside and every eligible man and woman over the age of 16 has been conscripted to join the fight.
Only this is in a VR game called World Domination, a game designed to eliminate civilian, technological, fiscal and environmental loss but to still cater for the warlike nature of humans. All of the troops are hard wired into their harnesses.
The rules are simple, survive 100 battles and you're free. Die 50 times and you'll receive a lethal dose of poison administered by the game, as war must always have consequences. Take on a Special Mission and you'll gain 1 extra life, mission credits and valuable power-ups and special weapons.
Only the rules have changed. The European High Command has decreed that soldiers who hit 49 deaths are to be kept permanently in the game. The 49ers is a regiment of Last Chancers, their commander, iColonel Ron Clark, is desperate to keep his people alive, and give them one last chance.
Permadeath LitRPG / LitFPS Series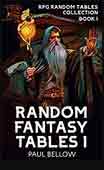 Fantasy RPG Random Tables Books
Make life as a Game Master easier....
If you play Dungeon & Dragons, Pathfinder, or other fantasy tabletop role-playing games, this
RPG random tables book
is full of encounters, NPCs, and more. Available as an eBook or in a classic print format. Either way, you'll have a wealth of adventure ideas at your fingertips.
Spread the love, earn +42 xp...