In this article, we'll look at why you need a backstory for your D&D character as well as some good examples of a backstory. Roleplaying games have a lot of rules. There are a lot of rules about how you can alter your character's abilities and attributes. You can add feats (a sort of D&D character sub-class), skills, spells, and magic items.
However, just as important is your character backstory. Don't worry. You don't need to write a novel or even thousands of words to come up with a decent character backstory for your Dungeons & Dragons character. Below we have some good D&D character backstory examples and a way you can create your own for dozens of classes and races.
Male Changeling Cleric
Wormmister: Born in Uristaep(urr) (Grabisco Kingdom)
STR 6 INT 9 WIS 6 DEX 17 CON 7 CHA 14
D&D Character Backstory:
Wormmister was born a changling in the far western side of Grabisco. His parents could not afford anything better than squalid housing for their son, and that is where he grew up throughout his early years. He found solace in the nearby temple of Beldaroon, where he spent his days and leaned more and more about the being as he grew older.
He believed in Beldaroon, but he did not believe that the god was meant only for his kind. It was not long before he was using his newfound knowledge to teach others, particularly the poor changlings who lived on the streets of his village. In time, he realized that he needed to travel to other places, and to spread the word of the kind and just god he had come to love. He set out for Ledale, where he felt that Beldaroon would be most grateful for his sacrifices.
Character Personality:
Wormmister is kind and loving. He dedicated his entire life to the pursuit of spreading the word of Beldaroon, and trying to help others as much as possible. There is nothing that he loves more than the people he meets, and he tries his very best to be a good example for all to follow.
Appearance:
Wormmister is quite tall for a changling. He has a well groomed beard. His clothes are quite clean and presentable. He has a large, ornate staff with him wherever he goes.
Start of Character:
Wormmister is an aged and wise Cleric of Beldaroon who has spent the majority of his life spreading the word of Beldaroon, especially in far off places. He is drawn to the Kingdom of Grabisco by the obvious presence of the gods in this land.
He hopes to find new challenges and opportunities here, as well as help the people who are in need of a kind and just person to be a friend and guide.
Male Dark Elf Priest
Erenthe: Born in Nuffelstad (Grabisco Kingdom)
STR 16 INT 14 WIS 16 DEX 15 CON 9 CHA 14
Backstory:
Growing up as a young boy Erenthe witnessed his parents die during an attack by Zeddians that had been held in the city for a while. When the attack came, his parents had left the city to find food for the city. As the Zeddians came, Erenthe was too late in returning to the city to warn the people.
In a fit of rage and grief, Erenthe tried to find the Zeddians. He was almost successful in finding them and he was captured by a patrolling squad. In an unspeakable act of horror, they cut out his elf eyes and made him watch as they killed his family. He swore an oath that day to join the Zeddian army in order to take his revenge on the land of Grabisco.
Personality:
Erenthe is a very ruthless and sadistic person. Often times he will have a haughty, confident attitude, but he is able to disguise that well. He never gets attached to people. He doesn't allow himself to get close enough to others to do something that he would regret. He has a very good sense of insecurity and guilt in himself, as well as many other things. He doesn't know what it is like to be happy.
Appearance:
Erenthe is very tall and has very pale skin. His eyes are red. He has long black hair. He dresses in a black robe and carries a dark staff.
Start of Character:
He is currently healing the wounded soldiers in the Zeddian army.
More Good Character Backstories
If you're looking for more good D&D character backstories,you might also enjoy our D&D Backstory Generator. Check it out for more examples or head over to LitRPG Adventures Workshop to use GPT-3 API to create your own character backstories for tabletop role-playing … and much more.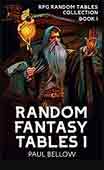 New Fantasy RPG Random Tables Book Available Now
Make life as a Game Master easier....
If you play Dungeon & Dragons, Pathfinder, or other fantasy tabletop role-playing games, this
RPG random tables book
is full of encounters, NPCs, and more. Available as an eBook or in a classic print format. Either way, you'll have a wealth of adventure ideas at your fingertips.