This is a collection of three ranger backstory examples for D&D, Pathfinder, or similar tabletop RPG games. Read to the end to see how I came up with these and how you can easily generate your own!
Ranger Character Backstories
Here's some quick samples of D&D ranger backstories created with LitRPG Adventures Workshop.
D&D Ranger Backstory #1
Wills Blackhammer
Male Dwarf Ranger
Born in The Dwarven Kingdom in the Sussurian Jungle
Backstory:
Wills Blackhammer was born and raised in the dwarven kingdom of Harkenstone, where his parents were good friends with King Norin Stonehammer. He was only 10 when the orcs invaded the area, and everyone was forced to defend their territory.
Being fighters at heart, his parents went to the front lines. Wills never saw them again. When Harkenstone was razed to the ground, Wills escaped and fled the battlefield.
He's been living as a fugitive ever since, looking for a way to take his revenge on the orcs of the Sussurian Jungle. He's learned a few things about the ways of war along the way. One day, he'll defeat the orcs and avenge his parents.
Want FREE Wizard Character Backstories?
Want a full book of wizard backstories?
Get your
FREE Wizard Backstories
today.
Or, if you want to create your own D&D backstories (and more), head over to
LitRPG Adventures
today.
Personality:
Wills is an easygoing individual, but he gets angry when it comes to defending his honor or the honor of his family. He has a short temper, but is a good man at heart. He hopes one day to settle down and find a good woman to settle down with.
Appearance:
Wills is a hard-working dwarf who is well-muscled. He has a devilish gleam in his eye when a fight is on the horizon. He wears his black beard in a ponytail and wears a chain shirt with a plate armor cuirass.
Start of Character:
Having learned a few tricks of the trade, Wills hopes to provide his services as a protector throughout Grabisco, and perhaps beyond.
D&D Ranger Backstory #2
Gwyllynna
Female Centaur Ranger
Born in The Village of Andeiona
Backstory:
Gwyllynna was born in a small village in the expanse of Neverwood Forest. Her mother was a beast hunter from a nearby village. Her father was a druid who was also born in Neverwood Forest. Her parents met on a hunt and fell in love. Gwyllynna enjoys living in the wilderness with her mother and father. She spends most of her time hunting with her father and practicing her archery with her mother. She has high aspirations of entering the woods and becoming a beast hunter like her mother.
Personality:
Gwyllynna is quiet and shy, but she is respectful and friendly to those she gets to know. She is fiercely independent and cares deeply for those she loves. She loves archery and will hunt any animal that she desires.
Appearance:
Gwyllynna is a centaur of the most beautiful variety. She has long, black hair with white streaks. Her eyes are dark blue. She dresses in light greens and browns to match the forest in which she lives. Her favorite weapon is her bow which she always carries at her side.
Want FREE Wizard Character Backstories?
Want a full book of wizard backstories?
Get your
FREE Wizard Backstories
today.
Or, if you want to create your own D&D backstories (and more), head over to
LitRPG Adventures
today.
Start of Character:
Gwyllynna has decided to adventure throughout the Kingdom of Grabisco and beyond. She wants to find out what lies beyond the Neverwood Forest she called home.
D&D Ranger Backstory #3
Ralo the Magnificent
Male Ratling Ranger
Born in The City of Ledale
Make Your DM Happy With This Tool!
Over 14 RPG generators currently online.
Try my
D&D Backstory Generator
today. Members get access to library of content.
Backstory:
Ralo the Magnificent is a heroic ratling adventurer who rose to fame by slaying the fearsome Scavenger of the Mountain Peak, and rescuing the lovely Princess who was captured by the goblins deep in the caverns of the mountain. He then used a combination of quick wit, a strong sword arm, and tremendous luck to win the heart of the fair Princess. They live happily in the kingdom of Scoffalot, guarded by an army of trained rats who allow the land to prosper. Ralo the Magnificent is also a sorcerer, and uses his magical powers to protect all of Grabisco from the darkness that lies beyond the Barrier.
Personality:
Ralo the Magnificent is a brave and courageous warrior. He's intelligent, charming and witty. He's also a bit shy when it comes to talking to women. His magic helps keep him and his friends safe and he is fiercely loyal. His one weakness is that he likes to eat.
Appearance:
In his younger days, Ralo had dark hair and a goatee. He is now older and has long, brown hair. He's taken up a noble's lifestyle, dressing in fine clothes and wearing a gold circlet. He carries a long staff with a large red ruby at the top. He has a thick fur-lined cape that he wears while adventuring.
Start of Character:
He is a proud citizen of the Kingdom of Grabisco.
More D&D Ranger Backstory Examples?
Head over to LitRPG Adventures and join the Workshop. Members can use AI tools to create new RPG content and browse the library of hundreds of characters, places, monsters, and magic items already created.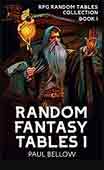 New Fantasy RPG Random Tables Book Available Now
Make life as a Game Master easier....
If you play Dungeon & Dragons, Pathfinder, or other fantasy tabletop role-playing games, this
RPG random tables book
is full of encounters, NPCs, and more. Available as an eBook or in a classic print format. Either way, you'll have a wealth of adventure ideas at your fingertips.