Check out our list of some new RPG Games in 2017…
This year has gifted us to a fantastic video game release calendar thus far. Whether it be the huge multi-platform releases like Resident Evil 7: Biohazard or the gaming sensations that greet the movies like Mighty Morphin' Power Rangers: Mega Battle; 2017 has proven to have a lot in the works.
2017 also marks a year for unveiling games that have been held back due to upgrades and working out some of the unnecessary kinks. One of the most popular gaming platforms is roleplaying games. Below we'll detail some of the best upcoming and new releases this genre of game play and describe some of our favorite releases.
South Park: The Fractured But Whole
Starting with one of the more amusing role playing games platforms is the second coming of a South Park release. The release is brought to you by the minds at Ubisoft. The Stick of Truth was the most recent South Park game releases and this second installment brings fans of the long-standing TV series a richer narrative.
The creators of South Park, Trey Parker and Matt Stone, once again partnered with the software company to provide story lines we have all come to know and love. The characters have more personality and the creation possibilities have exceeded any prior expectations. If you love mixing comedy with quirky superheroes, this is the roleplaying games you should look forward to.
It will be released on all major gaming platforms including: Xbox One, PS4, and PC. It was set to release in early Spring of 2017, but minor setbacks have placed the release date to early Summer 2017.
Mass Effect: Andromeda
The fourth installment of the Mass Effect series, Mass Effect: Andromeda comes to gamers after a 5-year absence from gameplay. It is one of the newer RPG releases and hit the shelves in mid-March of 2017. This long-awaited edition creates a picturesque storyline into inhabiting new territories and galaxies in future times.
The user starts out as a young military recruit that must assimilate to this new way of life. The challenges represented by the first three installments are re-created through the use of new threatening lifeforms and other artificial intelligence forms. The player can also pre-determine character skills and abilities through earning points from quests and challenges.
The dialogue is a little more choice in scope, leaving no correct/incorrect responses. This helps create different forms of gameplay and a long list of outcomes and progressions. This is the long-awaited rebirth of a trio of games that dominated the past ten years of gameplay and it definitely does not disappoint.
Horizon Zero Dawn
Our last game received one of the largest outpouring of sales of 2017. Released at the end of February, Horizon Zero Dawn was developed by Guerilla Games and later published by Sony. This game is a sound reason for why gamers must have both the Xbox One and PS4 systems.
Released exclusively for PS4, this game expands upon quests and travels with an extremely large map space. The gamer takes on the role of Aloy, a young outcast who has spent her life scavenging and fighting for supremacy. The world she lives in has expanded immensely since she was born, and is now taken over by robots and mechanical masterpieces.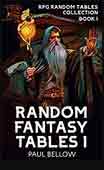 Fantasy RPG Random Tables Books
Make life as a Game Master easier....
If you play Dungeon & Dragons, Pathfinder, or other fantasy tabletop role-playing games, this
RPG random tables book
is full of encounters, NPCs, and more. I also have a complete adventure, including a dungeon map and room descriptions. Check out the
Dungeon Maps Described
or
Random Encounters
series today!
The large map of play allows for users to take off on in-depth quests or travel the world. The travel allows Aloy to battle these marvelous machines and scrounge from their remains. As the storyline progresses, the user grows Aloy into a dominant force, where she is free to roam and fear no enemy. The graphical design and attention to detail with characters and terrain alike make this game one of the best role playing games on the market in 2017.
LitRPG: Bringing Something New to the Gamer
Another trending topic in the game play industry is the development of LitRPG. This term stands for literature that features gamer undertones and structure. The reader will enjoy reading about specified damage hits and health decreases as the words meet paper. Gamers love the storylines that are presented with each game release and it is an essential component to purchase for a consumer. A bad storyline makes for a bad role playing game.
This form of literature is continuing to develop on a state side basis, already featuring a host of reads on a global perspective. The development of these forms of literature should find a home in the U.S. as it gains traction among readers and game players alike. Look for popular authors to give in to this new trend and expect to see some of your favorite games brought to life through ink and paper.
Want even more gaming goodness? Head on over to the LitRPG Forum for a look at the best upcoming RTS & strategy games for 2017/2018!
RPG Dungeon Builder with GPT-3
Come join us! litrpgadventures.com
Fantasy RPG Random Tables Books
Make life as a Game Master easier....
If you play Dungeon & Dragons, Pathfinder, or other fantasy tabletop role-playing games, this
RPG random tables book
is full of encounters, NPCs, and more. Available as an eBook or in a classic print format. Either way, you'll have a wealth of adventure ideas at your fingertips.