Do you love the RPG genre as much as we do? We hardly think that's possible, but we'll give you the benefit of the doubt. Here's our quick roundup of some of the new RPG games due in June 2017.
Come discuss your favorite at LitRPG Forum and play a fun match the screenshot to the title game!
Facebook LitRPG Reads Comments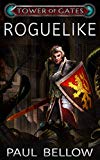 Do You Love D&D Books?
Get a FREE LitRPG Novel Today!
Looking for a full-length LitRPG novel to read? You can get a free copy of Roguelike right away! Click here for more information on this great LitRPG adventure. Fans of Dungeon Crawl Stone Soup, Nethack, and other roguelike games will enjoy this book!