Our staff is still catching up on reading lists. In the meantime, we thought we'd ask you, the readers, for some help classifying some of the LitRPG books on the site. Specifically, we're looking for whether you think a certain title is "hard" or "soft" LitRPG. Do you even see a difference?
Thanks in advance for the help. As we ramp up the website, we hope to interact with all the passionate LitRPG fans. If you have an opinion about LitRPG or would like to help our website become better (level up, you might say), please leave a comment or contact us.
Long live LitRPG!
Facebook LitRPG Reads Comments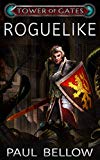 Do You Love D&D Books?
Get a FREE LitRPG Novel Today!
Looking for a full-length LitRPG novel to read? You can get a free copy of Roguelike right away! Click here for more information on this great LitRPG adventure. Fans of Dungeon Crawl Stone Soup, Nethack, and other roguelike games will enjoy this book!