As we're a new site, we thought we would do a nice giveaway for LitRPG fans. The contest will be running for the next 30 days. All you need to do is click the link and follow Paul Bellow on Amazon. This will help you remember when his first novel, Goblin, drops in the near future. It'll also give you a chance to win one of two new(ish) LitRPG books.
Win FREE LitRPG
Here's our current two contests.
You can read all the rules on the Amazon page, but basically if you follow Paul Bellow on Amazon, you get a chance to win one of these two LitRPG Book.
Please share this page on social media. Thanks!
Facebook LitRPG Reads Comments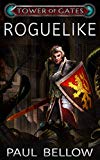 Do You Love D&D Books?
Get a FREE LitRPG Novel Today!
Looking for a full-length LitRPG novel to read? You can get a free copy of Roguelike right away! Click here for more information on this great LitRPG adventure. Fans of Dungeon Crawl Stone Soup, Nethack, and other roguelike games will enjoy this book!