Why leave it up to an author to tell you what they think is the best LitRPG novel? I've got my own ideas as a writer, of course, but I want to hear from YOU, the fans of litrpg. Leave a comment below and let us know what litrpg novel you think is the absolute best.
If you were creating a LitRPG list for new readers, what would you put on the list? Let us know, and we'll use the information to compile a comprehensive list of the very best LitRPG books you can buy right now.
When it comes to games, we all have our opinions, and we'd like to hear yours. This is the chance to have your voice heard when it comes to the greatest LitRPG books published in the last few years. Please note, we DO include Russian LitRPG.
That means you can go all the way back to 2010 or earlier for a book if you think it's LitRPG. Unlike other websites, we're not trying to shove a definition of LitRPG down your throat. Shall you thank us for that? Small smile.
Anyway, enough rambling. With all the new, great LitRPG books coming out, I wanted to give you, the readers, a chance to speak-up about which ones you think are the very best. When it comes to LitRPG, there's something for everyone these days.
As mentioned above, leave a comment below and let us know what you think is the best LitRPG of all time. We're listening!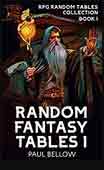 New Fantasy RPG Random Tables Book Available Now
Make life as a Game Master easier....
If you play Dungeon & Dragons, Pathfinder, or other fantasy tabletop role-playing games, this
RPG random tables book
is full of encounters, NPCs, and more. Available as an eBook or in a classic print format. Either way, you'll have a wealth of adventure ideas at your fingertips.